8th sem
5 Fundamental Skills Every Artist Should Master
As an artist, your job is to immerse your viewers into a world that you have built and guide them safely through it. Artists have much in common with storytellers. Storytellers have several tricks that they use to keep their readers coming back for more. Like storytellers, artists can use similar tricks to help them produce more compelling artwork.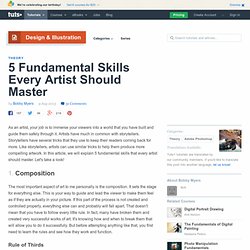 Good job! As Git just told us, our octobox directory now has an empty repository in /.git/. The repository is a hidden directory where Git operates. To save your progress as you go through this tutorial -- and earn a badge when you successfully complete it -- head over to create a free Code School account. We'll wait for you here.
Code School - Try Git
Batman & Dracula: Red Rain is a 1991 graphic novel by Doug Moench and Kelley Jones,[1] in DC Comics' Elseworlds line of alternate reality stories. It spawned two sequels by the same creative team; Batman: Bloodstorm and Batman: Crimson Mist. Plot[edit] Investigating a series of murders of Gotham's homeless, the victims' throats having been slashed, Batman discovers that the murders are being committed by a family of vampires led by Dracula himself, still "alive" and well. With the aid of a rogue vampire called Tanya—who was once a member of Dracula's brood until the sight of an innocent child drove her to flee from him, creating a "blood substitute" to spare her from the cycle of death and murder—Batman, himself bitten by a vampire (Tanya herself, who seeks his aid in defeating Dracula as all Vampires created by Dracula are powerless against his abilities and mental powers), is able to acquire the strength necessary to stand against Dracula's minions while still retaining his humanity.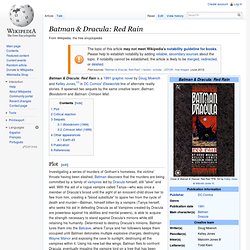 Batman & Dracula: Red Rain
Perversity characterizes Pakistan. Only the worst African hellholes, Afghanistan, Haiti, Yemen, and Iraq rank higher on this year's Failed States Index. The country is run by a military obsessed with -- and, for decades, invested in -- the conflict with India, and by a civilian elite that steals all it can and pays almost no taxes. But despite an overbearing military, tribes "defined by a near-universal male participation in organized violence," as the late European anthropologist Ernest Gellner put it, dominate massive swaths of territory. The absence of the state makes for 20-hour daily electricity blackouts and an almost nonexistent education system in many areas.
What's Wrong with Pakistan? - By Robert D. Kaplan
:::Patent Search:::
You know JLo, you also know JLaw, but do you know JLe or JLeto? Well, If you were watching Golden Globes and heard the name Jared Leto, and are still wondering who is this guy, @SilverlightGal has got the answer for you. It's that time of the year again when actors and actresses make space in their (perhaps already crowded or perhaps nearly empty) shelves to store little statuettes that recognize their contribution to the world of films.
F.i.g.h.t C.l.u.b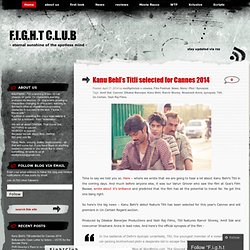 Karamati Coat 1994 FULL MOVIE (Hindi lang) (English subtitle)
Disco Dance and Bollywood - FILMISTANI - Filmon Ki Kahani, Hamari Zubani !!
"Taj Mahal, India
Rocking Out Your AngelList Profile | Results Junkies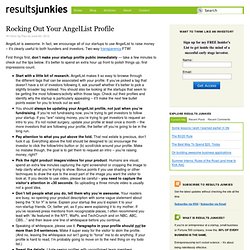 AngelList is awesome. In fact, we encourage all of our startups to use AngelList to raise money – it's clearly useful to both founders and investors. Two-way transparency FTW!
The Next Generation Housing Portal - Housing.co.in
Synergy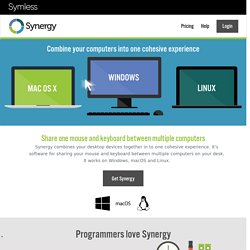 Synergy is free and open source software for sharing one mouse and keyboard between multiple computers. Supported on Windows, Mac OS X and Linux. Simply move your mouse to any computer and start typing.
Galactus is number 5 - IGN
Stripe: Payments for developers
How NPS benefits in saving tax? For majority of taxpayers, Rs 1 lakh tax-saving investment limit under Section 80 C is the only one which can be availed to save tax. The reason is very few employers/employees are aware of additional tax benefit which can be availed under Section 80CCD (2).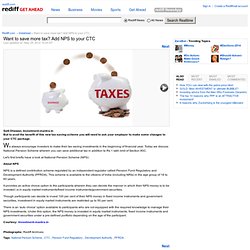 Want to save more tax? Add NPS to your CTC - Rediff Getahead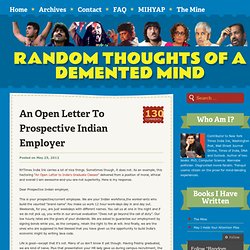 An Open Letter To Prospective Indian Employer « Random Thoughts of a Demented Mind
NYTimes India Ink carries a lot of nice things. Sometimes though, it does not. As an example, this hectoring "An Open Letter to India's Graduate Classes" delivered from a position of moral, ethical and overall-I-am-awesome-and-you-are-not superiority.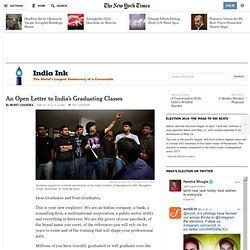 Namas Bhojani for The New York TimesStudents prepare for summer placements at the Indian Institute of Management (IIM), Bangalore, in this November 10, 2008 file photo. Dear Graduates and Post-Graduates, This is your new employer.
An Open Letter to India's Graduating Classes
Konami Code Sites
The Story of Civilization
The Story of Civilization, by husband and wife Will and Ariel Durant, is an eleven-volume set of books covering Western history for the general reader. The volumes sold well for many years, and sets of them were frequently offered by book clubs. The series was written over a span of more than four decades. It totals four million words across nearly 10,000 pages, but is incomplete. In the first volume (Our Oriental Heritage, which covers the history of the East through 1933), Will Durant stated that he wanted to include the history of the West through the early 20th century.
To kolejny wpis z serii "O tym, jak…". Tym razem chciałbym przedstawić wam moją historię z firmą OVH.com. Read more … Czasem przychodzi potrzeba zastąpienia jakiegoś framgentu pliku tekstowego innym wyrażeniem. Z pomocą przychodzi konsolowy program sed. Funkcje wywołujemy komendą:
Unusual clock
In the War of Currents era (sometimes, War of the Currents or Battle of Currents) in the late 1880s, George Westinghouse and Thomas Edison became adversaries due to Edison's promotion of direct current (DC) for electric power distribution over alternating current (AC). Thomas Edison, American inventor and businessman, known as "The Wizard of Menlo Park", pushed for the development of a DC power network. George Westinghouse, American entrepreneur and engineer, financially backed the development of a practical AC power network. Edison's direct-current system generated and distributed electric power at the same voltage as used by the customer's lamps and motors. This meant that the current in transmission was relatively large, and so heavy conductors were required and transmission distances were limited, to about a mile (kilometre); otherwise transmission losses would make the system uneconomical. At the time, no method was practical for changing voltages of DC power.
War of Currents
Search Kashmir
At The Edge
Running a startup
Malleus Maleficarum
Kola Superdeep Borehole
The Man Who Wanted to Wed 500 Times
Old Indian Photos
List of Old Doordarshan TV shows and Serials - AbhiSays.com
Nazia Hassan - Disco Deewane (HQ) (very rare) (early 80's)
The 100 best games of all time
Coursera
Ico
tjcombo.net ~ the future is interactive
Microsoft Pulls Prank / Company takes browser war to Netscape's lawn
Not Just Another Fake Mona Lisa - Interactive Feature
Comparing The United States to India.
The 50 Coolest Books Ever - Entertainment
Ignobel Indians
Melencolia I
Eadweard Muybridge
Where has the Ghazal gone?
Media Crooks: India's Worst Journalists...
Deepa Malik [Biography] Swimmer,Biker of the world ~ Matpal
Remember when Indi-pop used to outsell bollywood music? What were your favourites?
What Did J.D. Salinger, Leo Tolstoy, Nikola Tesla and Sarah Bernhardt Have in Common?
Biddu
crocodile in water, tiger on land.
Party (1984 film)
Home - The Startup Centre : We are a Hub + Accelerator for Tech Startups
Beef eating: strangulating history
Ask r/India: How is the innovative/startup scene in india?
Graeme's Fantasy Book Review
Share Book Recommendations With Your Friends, Join Book Clubs, Answer Trivia
Ruth Westheimer
The greatest program ever written
Wendigo
Tagore and Einstein - School of Wisdom
ZbigZ.com
Helen Keller
Hunter S. Thompson
Technische Universität Wien : 3D-Printer with Nano-Precision
Jijibisha: A man's 'Wheel' to live - The Times of India
Life & Style / Metroplus : Mission heritage
Level 10 Comics | Full-on Masala Comics
Diving Dogs Are Good Catch for Photographer | Raw File
In Search of Grappling's Roots in India, Part 1 – - Black Belt
How the U.S. Military Shares Its Rich History With Facebook Timeline
Charge Your iPhone Simply By Breathing Into This Mask
Brave New World
Rahul Sood
Super Mario Crossover
Let Them Eat Spam!
Pixar Engineers Leave to Build Real World Living Toys
Hottest recent sighs - /dev/sigh - programmer rage
Medicine
Capability Maturity Model Integration
bio-bak.nl - now featured in 1000 megapixels!
Columns / Harsh Mander : Barefoot - The other side of life
Ten Amazing Java Applications
Deus Ex: Human Revolution opening title sequence
The Chicken and the Pig
40 Beautiful 8-Bit Artworks
The Restart Page - Free unlimited rebooting experience from vintage operating systems
27C3: Adventures in analyzing Stuxnet (Bruce Dang from Microsoft)
Parable of the Pearl
Equal opportunity
Point Taken (Who needs a fast & 24 hours internet?)