Foreign Cinema
Amador (2010. Biutiful (2010. Quotes Ana: Dad!
How do you spell "beautiful"? Mondays in the Sun (2002. Edit Storyline 2001: men without jobs, in the port city of Vigo.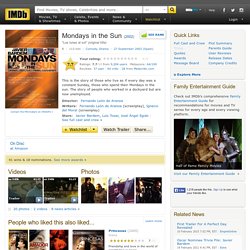 Six men worked in a shipyard, now shuttered. They pass the time at La Naval, a bar opened by one of them after the yard closed. Princesas (2005) I Wish – review | Film. One of the year's best films has arrived quietly, unnoticed by the awards-season cheerleaders, but with its delicacy and complexity, it puts the Oscar-bait to shame.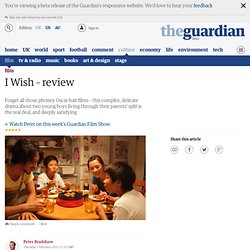 Hirokazu Koreeda's I Wish has taken two years to come to the UK. It has been more than worth the wait. Like his earlier movie Still Walking, this is a deeply considered Japanese family drama in the tradition of Ozu, with echoes of Edward Yang and Tsai Ming-liang – moving, sometimes heartbreakingly sad, often mysterious. The film is about the powerful imperative of family unity, but also about the inevitability, and even desirability, of families finally disintegrating and allowing everyone involved a painful kind of freedom. The original title is Kiseki, or "Miracle", and a miracle is being longed for by two brothers, around nine or 10 years old: they are Koichi and Ryu, played by real-life brothers Koki and Ohshirô Maeda, from whom the director gets terrifically natural and relaxed performances. The Lives of Others (2006. Goodbye Lenin! (2003.
Edit Storyline East Germany, the year 1989: A young man protests against the regime.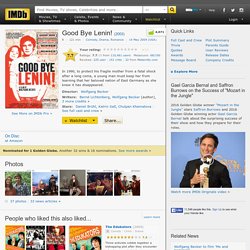 Hollywood targets Chollywood as LA studio enters $220m joint venture | Business. The Hollywood producer behind the Hangover movies and Inception has joined forces with a Chinese studio to create a $220.5m (£134m) venture aimed at China's increasingly lucrative film market.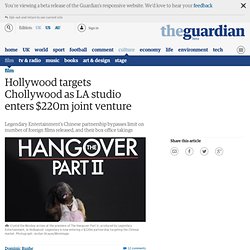 The partnership between Legendary Entertainment and Huayi Brothers Media Corp plans to make one or two "major, event-style films" a year for worldwide audiences starting in 2013. The two companies said they were selling a 50% stake in the venture, Legendary East, to Hong Kong construction company Paul Y Engineering. The deal allows Legendary Entertainment to bypass Chinese import restrictions that limit the number of foreign movies released in China to about 20 a year and restrict box office takings for foreign firms.
Hollywood is increasingly targeting the Chinese market, which is adding 1,400 screens a year. Jean-Luc Godard: his best films | Film. Breathless Godard's dazzling debut set up the stall for the French new wave.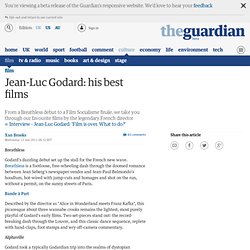 Breathless is a footloose, free-wheeling dash through the doomed romance between Jean Seberg's newspaper vendor and Jean-Paul Belmondo's hoodlum, hot-wired with jump-cuts and homages and shot on the run, without a permit, on the sunny streets of Paris. 5 Centimetres Per Second (2007.
---