Movie and Music
Google. MyMusicCloud. Do Lectures - Talks that inspire action. [Jim meets....] Professor Brian Cox - University of Surrey. Boomhauer King Of The Hill Season 1. Genius of Britain. The episode you requested is no longer available on 4oD.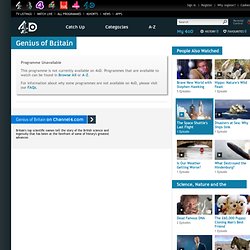 Please browse available episodes below Parental Control Look out for the add to Favourites button as you browse the siteUse the buttons to create a list of all your favourite showsNew 4oD episodes are flagged here so you don't miss out Programme Unavailable This programme is not currently available on 4oD.
Pirates of Silicon Valley 1999.
---