Applications
NOX Renderer. PirateBox DIY OpenWrt - David Darts Wiki. You can build a PirateBox for as little as US$30.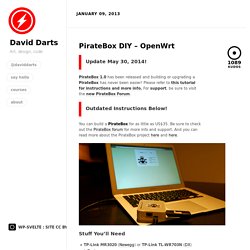 Be sure to check out the PirateBox forum for more info and support. And you can read more about the PirateBox project here and here. Stuff You'll Need. Sur les traces de la PirateBox. Échanger des fichiers librement, surfer sur le web en contournant la vigie Hadopi, c'est ce que propose la PirateBox, créée par David Darts, professeur à l'université de New York.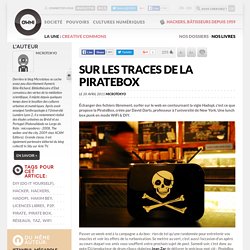 Une lunch box punk en mode WiFi & DIY. Passer un week-end à la campagne a du bon : rien de tel qu'une randonnée pour entretenir vos muscles et voir les effets de la rurbanisation. Mobile Widgets.
MaterielLibre
Building a face-tracking robot (Headroid1) with Python in an afternoon | The Artificial Intelligence Cookbook. Import sys from optparse import OptionParser import time import math import datetime import serial.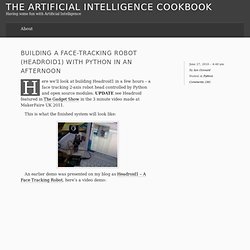 ---