Skyrim
Skyrim Abilities and Perks The long awaited news regarding Skyrim's race abilities and perk trees is starting to trickle in. Eurogamer Expo 2011 uncovered a plethora of new screenshots and information.
Racial Abilities and Perk Trees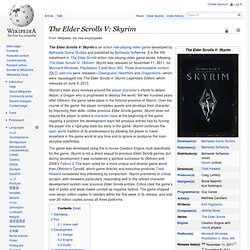 The Elder Scrolls V: Skyrim
The Elder Scrolls V: Skyrim is an action role-playing open world video game developed by Bethesda Game Studios and published by Bethesda Softworks .