Digital
Get flash to fully experience Pearltrees
Blurry Vision: In normal, healthy eyes with good vision, blurry vision indicates a need for prescription lens that adds additional power or corrects astigmatism that distorts the natural optics of the eye. Unfortunately, blurred vision after eye injury or refractive surgery may not be correctable, and can coexist with ghosting, smeared vision, or other visual abberations. Comorbidity of aberrations provides a substantial ethical frontier in refractive surgery, since communication of these visual realities is almost impossible through words alone.
One of the most useful features introduced with Photoshop CS is the Lens Blur filter. Unfortunately Adobe failed to provide much in the way of guidance as to how it is to be used. This short tutorial, shows one example whereby I have used the filter to replicate a widely used photographic technique called differential focus Not long after publishing this tutorial a number of readers emailed me to ask if it was possible to obtain similar effects to Lens Blur by using the Gaussian Blur filter in earlier versions of Photoshop. The answer is NO!. Lens Blur works in an entirely different way to Gaussian Blur .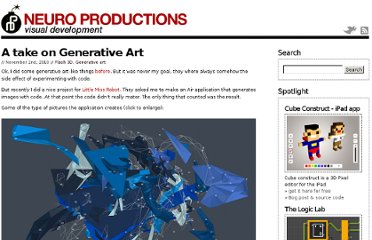 Ok, I did some generative art-like things before . But it was never my goal, they where always somehow the side effect of experimenting with code. But recently I did a nice project for Little Miss Robot .
Computational "ilustration"
Until recently, the software available to designers was rather static in nature. Driven by the promise of What You See Is What You Get (WYSIWYG) and inspired by ways of working that predate the computer, the full potential of computers as programmable devices remained unexplored. But with the advent of programming platforms aimed at designers and artists, many new ways of working have emerged. This, however, has led to a gap between designers who are literate in code and those who are not. This suggests a need to explore the potential of the computer beyond its role as a 'simulation machine' for pre-digital processes such as print, or photography with film. In 2001 I launched Scriptographer (scriptographer.org) as a freely available plug-in for Adobe Illustrator.
The Seduction symposium poster designed by Michael Bierut and Marian Bantjes for the Yale School of Architecture is currently on view at the Cooper-Hewitt National Design Museum as part of its Rococo: The Continuing Curve 1730–2008 exhibition.
Art , C++ , Computational Design , Data Visualization , Freelance , GUI , iOS , iPad , OpenFrameWorks , Reza , Technology , User Interface , Visualization