Ppsilva
Pedro Pinto Silva
How to prepare algorithmically created content in #Processing for offset print #res13 / @andreasgysin. Last month at Resonate festival in Belgrade Andreas Gysin ran a workshop titled "Printshop With Processing" aimed at graphic designers who want to integrate Processing in their print-production workflow.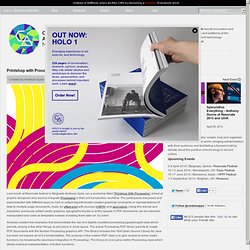 The participants discussed and experimented with different ways on how to output algorithmically created graphical ornaments or representations of data to multiple page documents, ready for offset print with process (CMYK) and spot colors. Using this tutorial and examples, previously edited vector graphics, typography blocks or entire layouts in PDF documents can be imported, manipulated and used as templates instead of adding them later-on 'by hand'. Andreas created few examples that demonstrate the use of a slightly modified processing pgraphicspdf class which permits, among a few other things, to set colors in cmyk space. The actual Processing PDF library permits to create PDF documents with the familiar Processing graphics API.
Free time. Events. Web. Augmented reality. Vvvv. Job.
---