Manitou Springs Library
701 Manitou Ave.
Manitou Springs, CO 80829
Historic Manitou Springs. Walking Tours, Hiking and Biking Trails. Manitou's Mineral Springs. Manitou Springs Special Events. Manitou Springs Library: A Book Story. The Manitou Springs Community Library recently received an old book (copyright 1897) with a typed letter explaining where the book has been the past few years.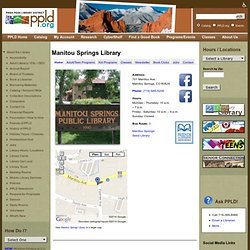 It is a touching story of a book that affected a patron many years ago, traveled the world, and returned. Dear Manitou Springs Public Library, Search Results for Manitou Springs.
Haunted Manitou. Index.
---