TIC
Sourcefabric. "I was looking for a way to give our authors a simple, powerful way to edit and create books and Booktype is it!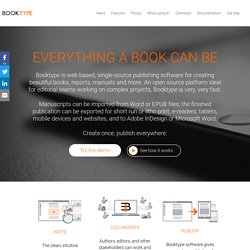 " Alessandro De Giorgi Youcanprint.it "Booktype is becoming the ideal platform for open publishing. With the booksprint methodology, Booktype enabled us generate the Spending Data Handbook in a few days, while remaining open to feedback and development. " Friedrich Lindenberg Head of Labs (Technology), "I was impressed at how seamless and almost invisible Booktype was in the project. It was very empowering for all involved, it seemed to remove hierarchy and made the whole editing process very transparent. " Marita Fraser IT Specialist, University College London "For those disappointed in the current selection of self-publishing tools, there's a new option.
Conception de site web. QR codes. Moodle. Concepts reliés. Cloud computing. Médias sociaux. Identité numérique. Cyberintimidation. Accompagnement.
Répertoire Outils sur le web. Important??
---