Incubadoras
Crowdfunding para amantes de la creación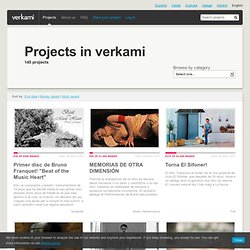 Did you know that your Internet Explorer is out of date? To get the best possible experience of our website we recommend you upgrade to a newer version or use another web browser such as Firefox, Safari or Chrome. Projects in verkami 177 projects €185 of €2,600 raised Only 39 days left La República Rumbera neix l'any 2011, arrel del curs d'introducció a la Rumba Catalana organitzat per FORCAT i dirigit per Pere Pubill Calaf "Peret".
SeedQuick
Estás accediendo a una IP compartida por varios hostings, por lo que no puedes visualizar la página web a través de la IP. Utiliza el URL temporal que figura en la entrada del Panel de control de tu hosting para ver la página en caso de que los DNS de tu dominio todavía no se hayan propagado. Estás a acceder a un IP compartido por varios hosting, polo que non podes visualizar o sitio web a través do IP. Utiliza o URL temporal que figura na entrada do Panel de control do teu hosting para ver a páxina no caso de que os DNS do teu dominio aínda non se propagaran. Estàs accedint a una IP compartida per diversos hostings, pel que no pots visualitzar la pàgina web a través de la IP. Fes servir l'URL temporal que figura a l'entrada del Tauler de control del teu hosting per veure la pàgina en cas de que els DNS del teu domini encara no s'hagin propagat.
comproyecto.com | Ponemos en contacto a creadores y mecenas.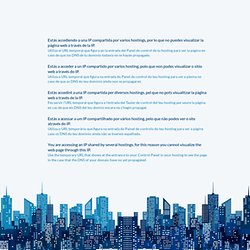 Growd: considering new tools in order to connect agile co-creation with crowdfunding What if crowdfunding could be embed in an agile way to co-creation processes, hackathons and other development meetings alike? What if this sort of solution is not only open source, but also generates new communities, collaboration and Common goods? If you're moved by those questions too please keep reading and find how you can help us below...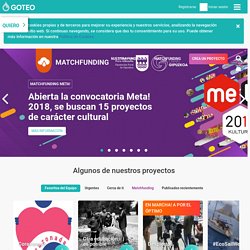 Goteo.org Crowdfunding the commons