Sweet
Get flash to fully experience Pearltrees
So about a month ago I came down with the biggest pain-in-the-ass cold, because my company moved into a new building and that building had rogue air conditioning. Since I've lived in Los Angeles for the last decade and resist wearing anything but Rainbow sandals and t-shirts well into November, I quickly grew ill and ended up huddled under several blankets for a whole day. The fever agitated my anxiety over how unproductive I was being (this is what working in publishing does to your brain, children) and so, obviously, I decided to bake! But not something that made any kind of sense (chicken noodle soup? Bread for toast?)
I was pulling the sad remnant of a vanilla bean from a bag of sugar the other day, and it got me thinking about using whole vanilla beans. The entire pod. I'm sure this isn't a unique concept, but for whatever reason, it's not something I'd ever considered before.
You can't help but want to bake something that goes along with the spring weather. This was supposed to be an actual cake, but it's always a good idea to check to see if you have the proper pan you'll need before coming up with a recipe. Oh well, cupcakes are just as adorable. Probably more adorable, right? Ingredients
Every now and again, a strange idea strikes me. Sometimes it's inspired by a conversation, a meal I ate or a recipe I saw. In this particular case, it was a conversation between an American and a Scotsman about Banana and Peanut Butter sandwiches.
Dennis Weaver Several years ago we spent a week making banana muffins. We tried recipe after recipe in search of the very best banana muffins.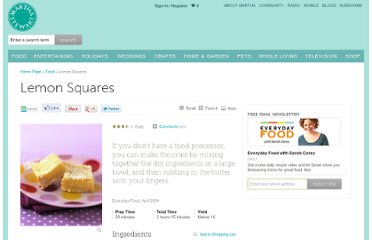 Save to your Collections Sorry for the inconvenience! Saving is temporarily unavailable as we work through a few kinks in our new recipe design (we hope you like it!).
I was on a mission. I needed more Green Scene No-Bake Energy Bites. I had been to the cozy organic market and deli just the week before. The half dozen Energy Bites I grabbed from the Green Scene deli lasted only minutes in the car on my way home.
My love of scones is well-documented . But one thing has always irked me about my homemade scones; they're not very photogenic. In fact, the lumpiness and uneven shape of my original CWA scone post makes me cringe so much that I keep wanted to redo the photos.
Okay, so I got a bit excited about jars and handheld pi es my last post. Individual desserts. Portable pies.
Preheat oven to 350°F. Line 12 muffin cups with paper liners. Using electric mixer, beat butter, 1 1/2 cups powdered sugar, and 3 teaspoons lemon peel in large bowl until blended, then beat until fluffy and pale yellow. Add eggs 1 at a time, beating to blend after each addition. Beat in half of flour.
I need to get better at naming recipes. Usually, I just list the ingredients in a tasty sounding matter, but for this recipe...there's too much tasty! Obviously I have to mention the blueberries, but what about the brown sugar, giving it a deeper, almost maple-y flavor? I should also bring up the sour cream, adding a tangy richness.