Software
Creating laser cut 3D forms super easily & Ponoko - Blog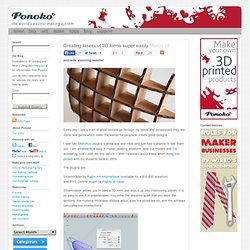 and with stunning results! Every day I see a a lot of good content go through my feeds and occasionally they are some real gems which lower the barrier for people to create great designs. I saw two SketchUp plugins a while ago and have only just had a chance to test them out.
Gmail, Twitter, Facebook, Flickr - a few giants so dominate the web app world that it's hard for anyone else to make an impression. We've spent some time looking beyond the leading sites, though, and discovered a host of interesting tech startups. Some take existing web app ideas and add a new spin of their own. Others are more innovative, using fresh concepts to deliver powerful new ways of using the web.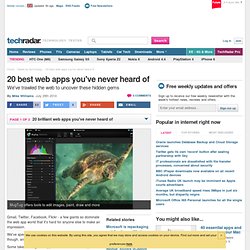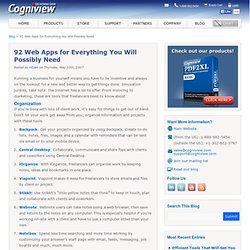 Running a business for yourself means you have to be inventive and always on the lookout for a new and better way to get things done. Innovation junkies, take note: the Internet has a lot to offer. From invoicing to marketing, these are tools that freelancers need to know about. Organization If you're busy with lots of client work, it's easy for things to get out of hand.
Living in the shadow of Gmail, Reader and Calendar's got to be tough, but that's what a slew of useful Google products do every day. We give Google's front-running applications a lot of ink (or pixels, as it were), and the rest a passing mention in the fast-flowing river of news. Today's top 10 pays homage to the little brother and sister Google products that you forgot all about. 10. Google Code Search Mostly of interest only to programmers, Google Code Search is a pretty incredible mechanism for finding and browsing the innards of countless open source projects.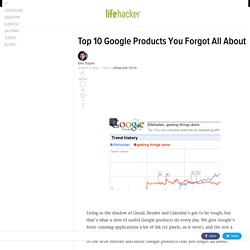 Ever notice how people texting at night have that eerie blue glow ? Or wake up ready to write down the Next Great Idea, and get blinded by your computer screen? During the day, computer screens look good—they're designed to look like the sun .