Finance
Thirty Minute Resource. Welcome to Morningstar's 30-Minute Money Solutions Center, a complimentary, online supplement to Morningstar's newly published book.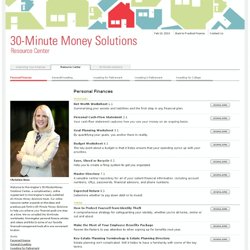 Our online resource center expands on the ideas and practices put forth in to help you achieve your financial goals one step at a time. We've compiled the 30-Minute worksheets, Morningstar personal finance articles and videos and links to some of our favorite financial management tools all in one convenient location. Reader Pays Off $14,330 In 20 Months With Our Tips.
Product Interests
30 Free eBooks To Learn Everything You Want to Know About Personal Finance |... Personal finance is something that we care about here at Mint.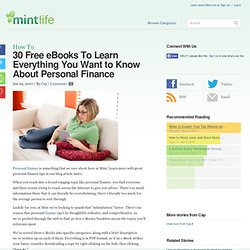 Learn more with great personal-finance tips in our blog article index. When you reach into a broad-ranging topic like personal finance, you find everyone and their cousin trying to reach across the Internet to give you advice. There's so much information there that it can literally be overwhelming; there's literally too much for the average person to sort through. 7 Money Tricks Rich Guys Know : MensHealth.com. My dad taught me how to rig a mainsail, my college buddies taught me how to hold my Jim Beam, and my teachers taught me how to parse Chaucer.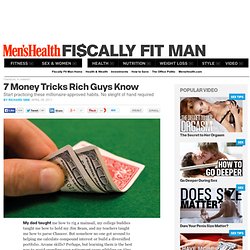 But somehow no one got around to helping me calculate compound interest or build a diversified portfolio. Arcane skills? Why Every Business Needs A Duct Tape Entrepreneur | MyWifeQuitHerJob.com. Whenever I think of duct tape, I think of my favorite television superhero MacGyver.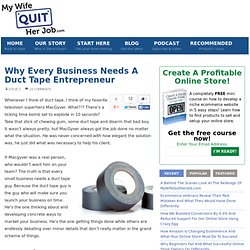 What?!? There's a ticking time bomb set to explode in 10 seconds? Take that stick of chewing gum, some duct tape and disarm that bad boy. It wasn't always pretty, but MacGyver always got the job done no matter what the situation. Swapaskill | a favour for a friend. Adventures in $40 eyeglasses. Last year, I stumbled upon a blog post about buying prescription eyeglasses online.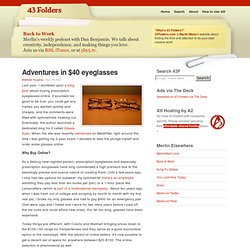 It sounded too good to be true: you could get any frames you wanted quickly and cheaply, and the comments were filled with optometrists freaking out. Eventually, the author launched a dedicated blog for it called Glassy Eyes. When the site was recently mentioned on MetaFilter right around the time I was getting my 2-year exam, I decided to take the plunge myself and order some glasses online. Get Rich Slowly - Personal Finance That Makes Cents.
---