Social business
Avise. Interview croisée entre Martin Hirsch et Virginie Seghers sur le social Business. Is all entrepreneurship social? The field of social entrepreneurship is still in its infancy, so naturally writers on the subject find plenty to disagree about, right down to basic definitions.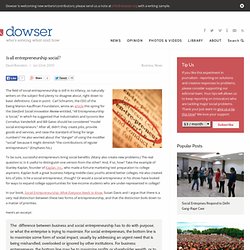 Case in point: Carl Schramm, the CEO of the Ewing Marion Kauffman Foundation, wrote an article this spring for the Stanford Social Innovation Review entitled, "All Entrepreneurship is Social," in which he suggested that industrialists and tycoons like Cornelius Vanderbilt and Bill Gates should be considered "model social entrepreneurs." After all, didn't they create jobs, provide goods and services, and raise the standard of living for large numbers?
He also worried about the "danger" of using the modifier "social" because it might diminish "the contributions of regular entrepreneurs." Le monde selon Matt Flannery. La pose est maladroite, mais le sourire naturel.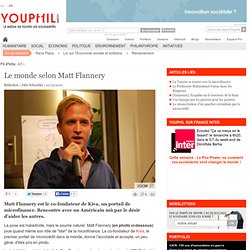 Matt Flannery (en photo ci-dessous) joue quand même son rôle de "star" de la microfinance. Le co-fondateur de Kiva, le premier portail de microcrédit dans le monde, donne l'accolade et accepte, un peu gêné, d'être pris en photo. Social business : vers un nouveau capitalisme ? | Développement durable et causes humanitaires : le blog Alternative Channel. Le monde de l'économie s'implique de plus en plus dans ce type d'entreprenariat.
L'appel à l'action des entreprises (BCtA), lancé par le PNUD (Programme des Nations Unies pour le Développement) en 2008, pour des modèles d'entreprises innovants, économiquement et éthiquement durables et capables d'améliorer les conditions de vie des populations, en est un parfait exemple international. Au niveau national, ce sont les soutiens répétés du gouvernement à la mise en place entreprenariat et surtout le lancement du premier Mouvement des entrepreneurs sociaux en février 2010. Enfin, il y a quelques jours, la présence de Mohammed Yunus au Salon des Entrepreneurs , scellait leur volonté de concevoir le développement de leur entreprise d'une autre manière, à l'instar des actions en faveur de l'innovation sociale, menées par des grands groupes comme Danone et Coca-Cola. L'entrepreneuriat social : vers une économie positive « Sciences Po TV. L'entrepreneuriat social : que se cache-t-il derrière ce concept ?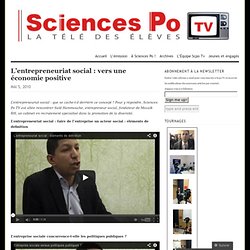 Pour y répondre, Sciences Po TV est allée rencontrer Saïd Hammouche, entrepreneur social, fondateur de Mozaïk RH, un cabinet en recrutement spécialisé dans la promotion de la diversité. L'entrepreneuriat social : faire de l'entreprise un acteur social : éléments de définition L'entreprise sociale concurrence-t-elle les politiques publiques ? Comment lutter contre le phénomène croissant des discriminations à l'embauche en tant qu'entrepreneur social ? Pour en savoir plus : Le " social business " par la preuve. Les rencontres de Babyloan. Un Comptoir Général d'esprit « social business » | Echos-solidaires. Situé au bord du canal Saint Martin, à Paris, dans les mêmes locaux que la Ruche, un espace collectif de travail pour les entrepreneurs sociaux, le Comptoir Général, accueille depuis plus d'un an des événements en rapport avec l'environnement, la solidarité, l'innovation sociale, l'ouverture au monde.
Géré comme un « social business », le Comptoir Général recherche, non pas le profit, mais l'équilibre financier, et ce sans aides d'Etat. Visant l'autosuffisance et ayant pour raison d'être une utilité sociale forte, le Comptoir Général adapte ses prix à chaque type de structure. Grâce à la modulation de tarifs, le lieu accueille à la fois de grandes entreprises et de petites associations « sans le sous » qui cherchent, chacune à leur manière, à promouvoir un développement durable et humain. (My) Top 5 iPhone Apps for Social Business | GrayMatter Minute. Because, surely, you want to know, right?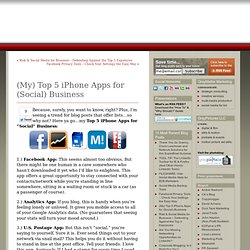 Plus, I'm seeing a trend for blog posts that offer lists…so why not? Here ya go…my Top 5 iPhone Apps for "Social" Business: Www.groupe-sos.org/media/doc/revue_presse/2010_11_23_1944_le_monde_campus_site.pdf. The Young Foundation - A centre for Social Innovation. SOCIAL BUSINESS: UN MODELE QUI ALLIE RENTABILITE ET DEVELOPPEMENT INTELLIGENT. About Us. Our Manifesto: For a just society We believe structural inequality undermines the economy and corrodes our wellbeing.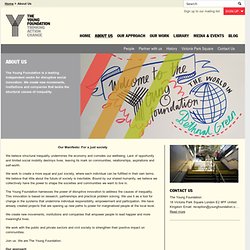 Lack of opportunity and limited social mobility destroys lives, leaving its mark on communities, relationships, aspirations and self-worth. We work to create a more equal and just society, where each individual can be fulfilled in their own terms. We believe that little about the future of society is inevitable. Bound by our shared humanity, we believe we collectively have the power to shape the societies and communities we want to live in. L'entreprenariat social: Grandes figures de l'entreprenariat social. Ceci est uniquement disponible en anglais These indiviuals recognise a social problem and use entrepreneurial principles to organise, create, and manage a venture for social change.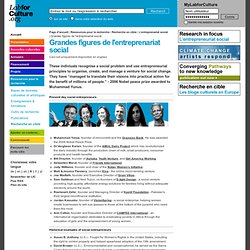 They have "managed to translate their visions into practical action for the benefit of millions of people." - 2006 Nobel peace prize awarded to Muhammad Yunus. Present day social entrepreneurs Muhammad Yunus, founder of microcredit and the Grameen Bank. He was awarded the 2006 Nobel Peace Prize. Live.labforculture.org/2009/10/socialentrepreneurship/files/Social_Entrepreneurship_FR.pdf. Alternatives Economiques : Economie sociale et solidaire mensuel sur l'actualité économique, l'autre regard sur l'économie et la société.
Voir tous les blogs La voie de l'innovation sociale L'économie sociale et solidaire est un début de puissance économique, un laboratoire d'innovation sociale mais un nain politique.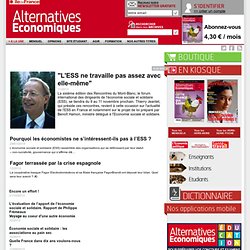 Economie sociale et socialisme : un débat bruxellois Même si nous avons tendance à ne voir dans Bruxelles que la ville des institutions européennes ou la capitale de la Belgique, elle est aussi une "ville-province", régie par un certain nombre de règles spécifiques, notamment sur l'ESS.
---