Timewasters
Crazy Things Parents Say
IYAMLOL | Stories That Make You Laugh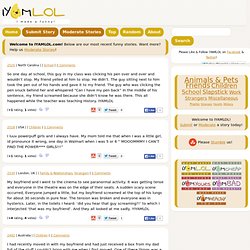 We've had my cat Callie for about 7 years. Three months ago we got a Siamese we named Bianca. Callie can't stand her. One day my mom and I were watching tv when we noticed the cats were on the back of the couch.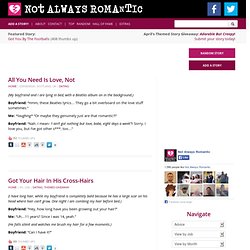 No Defense Against His Dark Arts (My friend and I are out shopping. She is wearing a Gryffindor t-shirt. She suddenly comes across a guy wearing a Slytherin hat.
(People call us to set up appointments at counseling clinics. One of our affiliated clinics' entire staff speaks English, Arabic, and Chaldean, so we get a lot of Arabic callers seeking appointments who may need an interpreter. I know a little bit of Arabic, but not enough to have an entire phone conversation.) Me: "Good afternoon. [Call Center].