Timewasters
Crazy Things Parents Say
IYAMLOL | Stories That Make You Laugh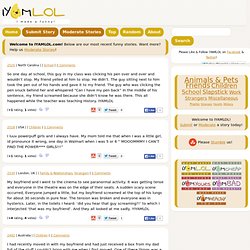 So one day at school, this guy in my class was clicking his pen over and over and wouldn't stop. My friend yelled at him to stop. He didn't. The guy sitting next to him took the pen out of his hands and gave it to my friend.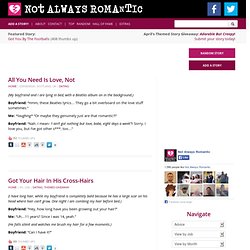 All You Need Is Love, Not (My boyfriend and I are lying in bed, with a Beatles album on in the background.) Boyfriend: "Hmm, these Beatles lyrics… They go a bit overboard on the love stuff sometimes." Me: *laughing* "Or maybe they genuinely just are that romantic?!"
(People call us to set up appointments at counseling clinics. One of our affiliated clinics' entire staff speaks English, Arabic, and Chaldean, so we get a lot of Arabic callers seeking appointments who may need an interpreter. I know a little bit of Arabic, but not enough to have an entire phone conversation.) Me: "Good afternoon. [Call Center].