The Basics
** Music Biz Vocabulary
Under international law (the Berne Convention), copyright is the automatic right of the creator of the work.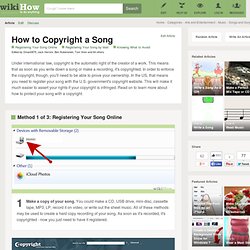 In the past seventeen years that I have been in the Music Publishing and Licensing field I have continually found there that is an intense need to try to help educate Artist's and Songwriter's on music publishing basics in order to help teach them firsthand -how this business works --SO that THEY are better prepared to understand the who,what, when where and why of contracts,licenses and royalties and the inner mechanisms of what drives the income wheels in music. I have found that although there are many knowledgeable books on this subject--some are still very hard to comprehend (for the layman)-due to complex detailed use of the music legal terms and a lack of a simple explanation of the basic inner language.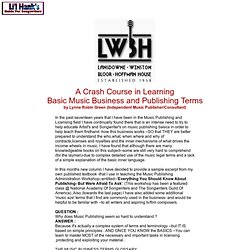 Publishing Terms Crash Course
MusicSupervisorGuide.com recently sat down with Dominique Preyer (featured member on MusicSupervisorGuide.com), also known as "The Music Supervisor", who has selected and/or cleared rights to music for over 25 movies. Dominique enlightens us on the processes and changes in the world of music supervision, how he finds his music and what we can expect from him in the future. MusicSupervisorGuide.com: How did you become involved in selecting music for movies?
Music Supervision - Interview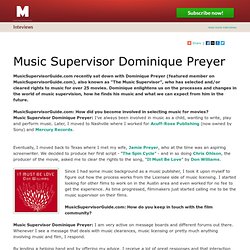 Taxi TV - Mondays at 4PM
A Brief Overview of the Music Business
Introduction to the Business of Songwriting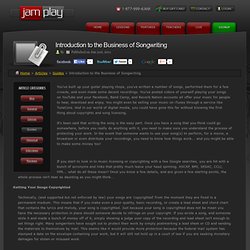 You've built up your guitar playing chops, you've written a number of songs, performed them for a few crowds, and even made some decent recordings.
Music Copyright, Publishing, and Contracts
As seen in Indie Slate Magazine . This article was written to help independent filmmakers, television producers, music publishers, and songwriters understand and navigate the convoluted and often perilous world of copyrightable interests in music and the requisite licenses needed to legally use music in various contexts, whether they be audio-visual (e.g., film, television, internet) or audio-only (e.g., CDs, digital downloads).
Music Licensing 101