Teacher Resources
Teaching Copyright Handouts and Support Documents Books By Lawrence Lessig, Stanford Law Professor and founder of Creative Commons The Future of IdeasFree CultureCode and Other Cyber LawsCode Version 2.0Remix: Making Art and Commerce Thrive in the Hybrid Economy (October 2008 release) By Cory Doctorow, Science Fiction Author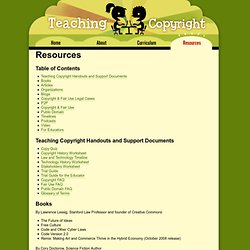 TeachingWithContests.com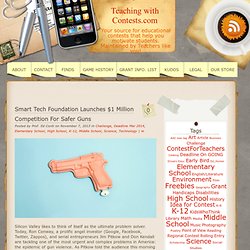 Silicon Valley likes to think of itself as the ultimate problem solver. Today, Ron Conway, a prolific angel investor (Google, Facebook, Twitter, Zappos), and serial entrepreneurs Jim Pitkow and Don Kendall are tackling one of the most urgent and complex problems in America: the epidemic of gun violence. As Pitkow told the audience this morning at Fast Company's Innovation Uncensored event in San Francisco, he and his colleagues want to entice a wave of inventors and entrepreneurs to help save lives. The carrot: a million dollars. At least. Read more…
Hello, We launched Ta-da List back in January of 2005 so everyone could have a fast and free to-do list app in their web browser. There wasn't much out there that was good in 2005. My, how things have changed. Now there are dozens and dozens of great free to-do list apps on the web and dozens more on the iPhone, Android, and Windows Phone. Because we haven't given Ta-da List much attention in the last few years, and as part of refocusing our efforts on Basecamp — we've decided to retire Ta-da List.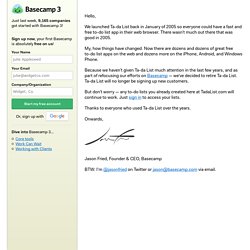 Donate There are a lots of ways to get involved with Curriki from contributing resources to sponsoring content. Curriki's non-profit Tax ID # is 203478467. You can also help us with tax deductible donations: Volunteer If you are looking for meaningful volunteer opportunities, we would love to hear from you.
Play fun games at Kids Stuff Canada - KIDOONS
Kids Stuff Canada™ TM/MC EnTechneVision, Inc., lic. use/usager lic. KIDOONS Inc. Draw fun pictures in these awesome online coloring books here at the KIDOONS Network!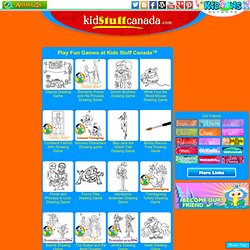 Content Matrix