iPods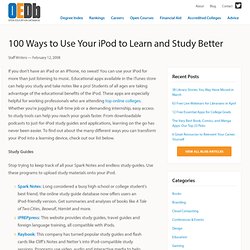 If you don't have an iPad or an iPhone, no sweat! You can use your iPod for more than just listening to music. Educational apps available in the iTunes store can help you study and take notes like a pro! Students of all ages are taking advantage of the educational benefits of the iPod. These apps are especially helpful for working professionals who are attending top online colleges. Whether you're juggling a full-time job or a demanding internship, easy access to study tools can help you reach your goals faster.
iQuizr - A Place for iQuiz Trivia - Browse Quizes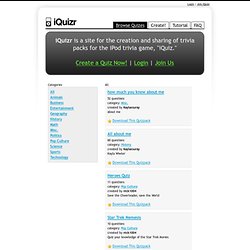 Login | Join iQuizr iQuizr iQuizr is a site for the creation and sharing of trivia packs for the iPod trivia game, "iQuiz."Create a Quiz Now!
Mobile Study | Create Educational Content For Mobile Devices