Blogs
Thumann Resources
I've been feeling lately like there's something new I would like to sink my teeth into. But how would I find the time and how would I pick just one thing? For a few years now, I've been talking about Google's 20% time. I decided that I would do a little research as to how educators are implementing this time in their classrooms, so that I might possibly approach my administrator to implement this in my work week.
I've been publishing guest commentaries on all the changes this year in International Baccalaureate Theory of Knowledge classes, and you can see them all here. And here's another one! Today's piece is from Brad Ovenell-Carter. Brad is the director of educational technology and TOK department head at Mulgrave School, an independent, coed K12 IB World School in Vancouver, Canada.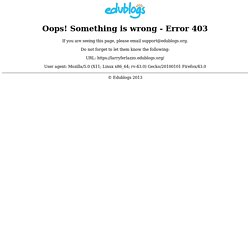 So you are probably aware of how your printer stores and uses ink and how to refill it. And you probably wonder why it costs so much for an ink cartridge... It is generally the most expensive liquid you will buy in terms of dollar per litre - including designer perfume.
The Interactive Classroom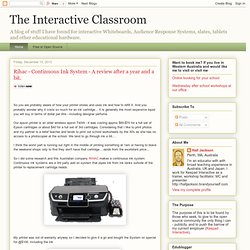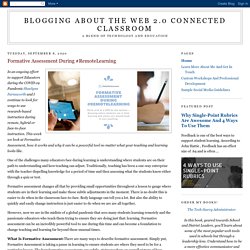 I spend a great deal of time on the go. From working with all the schools in my district to traveling to far off lands to work with teachers, I sometimes feel like I am disconnected from my learning. And that bums me out!
Why You Should Make Your Lessons Fun Posted on October 24, 2009 by mrrobbo This video is simply excellent and certainly supports the notion that we will choose to do that which we find fun over that which is dull and boring anyday. Thankfully, this has always remained at the forefront of my mind when planning my lessons. So what do you think? Isn't it so true?
2009 October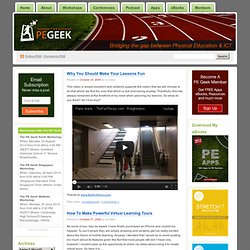 Why You Should Make Your Lessons Fun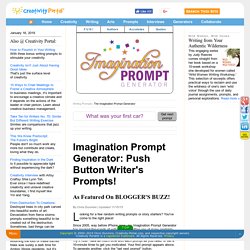 Writing Prompts : The Imagination Prompt Generator As featured on Blogger's Buzz! Take as much time with each prompt as you need, or set a 10-minute writing timer.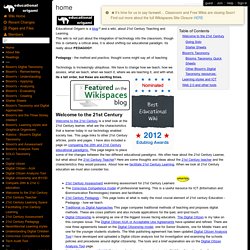 Educational Origami is a blog and a wiki, about 21st Century Teaching and Learning. This wiki is not just about the integration of technology into the classroom, though this is certainly a critical area, it is about shifting our educational paradigm. The world is not as simple as saying teachers are digital immigrants and students digital natives. In fact, we know that exposure to technology changes the brains of those exposed to it. The longer and stronger the exposure and the more intense the emotions the use of the technology or its content evokes, the more profound the change. This technology is increasingly ubiquitous.
Oct 19 2009 My Interesting Ways to Use series has been really successful. I measure their success in how useful they are to teachers and other educators in helping with professional development.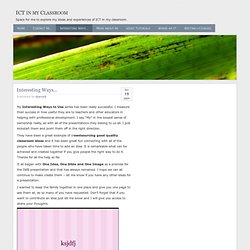 Interesting Ways… | ICT in my Classroom
Curriculum planning in this vein doesn't cater for the tangent or the divergent thinker- well it might entertain it briefly but will eventually settle back on the steady path to where we were always going. Curricular of this ilk are not setup for serendipity. If I knew exactly the music that was going to be played on the radio all of the time, well in advance and had no control over it, I would miss out on those beautiful moments when you hear a wonderful track that hasn't been played for ages and there you are in that completely unexpected moment savouring every note. Much of this is to do with teacher control and the lack of willingness to let go of the reins and venture from the path a little. But it is also to do with a lack of ambition about what we plan, many models of curriculum, as well as units of work, are legacy systems: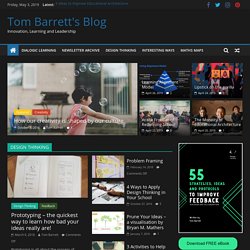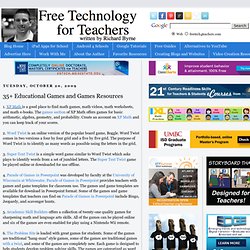 1. XP Math is a good place to find math games, math videos, math worksheets, and math e-books. The games section of XP Math offers games for basic arithmetic, algebra, geometry, and probability. Create an account on XP Math and you can keep track of your scores. 2.
A Flipped Classroom is a teaching model which reverses traditional methods. Instruction is delivered at home through interactive websites, teacher-created videos or content and moves the homework style learning to the classroom. Class time is used for creating tasks, exercises and problem solving while the teacher is present to assist and give immediate feedback whereas the homework is designated for learning content and students can form questions about what they have learnt to prepare for their next lesson. This allows the teacher more time to interact with the students. Some teachers like to create informative videos or ask students to create the videos for younger students. These can be made using screencasting software and some apps, such as:
Star Child, produced by NASA, is an online learning center for young astronomers and their teachers. Star Child offers content designed on two levels for younger and older elementary school students. Star Child has activities that students can do independently online and offline activities that students and teachers can do together. One of the great things about Star Child is that each student information page contains an audio recording (in Quicktime) explaining the content to students.
Star Child - Learning for Young As
Join us on Saturday, April 12th, when our special guest will be Donna Román,"Featured Teacher". Donna Adams Román is a 5th grade teacher at Mill Creek School in Illinois, blogger, trainer, and presenter committed to providing rich learning opportunities for her learners and professional learning network. She is a recent recipient of ISTE's first place SIGOL Online Learning Award (2013) and a Microsoft Innovative Expert Educator. Donna is active in Professional Development online and in her district, CoSN, ISTE, and iEARN. Educators are pulled in so many constantly changing directions. Donna will discuss how we can address these obligations while providing deep and meaningful learning experiences, not only for our students, but for ourselves as well.
Great to be back in Newport, for the first of two days alongside the children, and staff, of Ysgol Gymraeg Casnewydd. Welsh really is a beautiful language, and perfect for poetic, descriptive, invention. We carried out our lessons in that fascinating cross between two languages. As someone who grew up only a few miles across the River Severn, yet never managed more than a poor impression of spoken Welsh, it has always been intriguing to carry out lesson sessions in a mixture of tongues. Well done indeed to our intrepid explorers for doing so with such style, and alacrity. The younger children have yet to write in English, as there schooling is carried out entirely in Welsh.
Make a Screen Saver for your IWB | Integrating Technology in the
cation Network Australia - edna.edu.au
Skype Other Classrooms!
Looking for Ideas? Check Out Our Class Blog List! | The Edublogg
Mozilla Firefox
Tamaki Achievement Pathway
Classroom 2.0 LIVE!
Grandview Elementary School Blog