Social Action
Why "everybody is a designer": The UX Design Skills Ladder « User Experience Design Training & Consulting–UX Design Edge. I started to write an article on how non-designers can get started in interaction design, but quickly realized that Tip 2, "Know where you are on the UX design skills ladder," is worthy of its own post.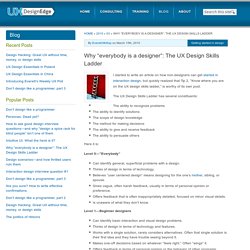 The UX Design Skills Ladder has several constituents: The ability to recognize problemsThe ability to identify solutionsThe scope of design knowledgeThe method for making decisionsThe ability to give and receive feedbackThe ability to persuade others Here it is: Level 0—"Everybody" Can identify general, superficial problems with a design.Thinks of design in terms of technology.Believes "user centered design" means designing for the one's mother, sibling, or spouse.Gives vague, often harsh feedback, usually in terms of personal opinion or preference.Offers feedback that is often inappropriately detailed, focused on minor visual details.Is unaware of what they don't know.
Victor Papanek. Victor Papanek (22 November 1923, Vienna – 10 January 1998, Lawrence, Kansas) was a designer and educator who became a strong advocate of the socially and ecologically responsible design of products, tools, and community infrastructures.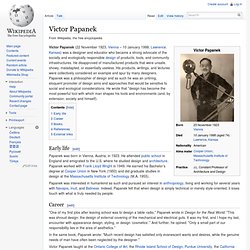 He disapproved of manufactured products that were unsafe, showy, maladapted, or essentially useless. His products, writings, and lectures were collectively considered an example and spur by many designers. Papanek was a philosopher of design and as such he was an untiring, eloquent promoter of design aims and approaches that would be sensitive to social and ecological considerations. He wrote that "design has become the most powerful tool with which man shapes his tools and environments (and, by extension, society and himself). The Victor J. Papanek Foundation | About | Papanek Foundation.
The Victor J.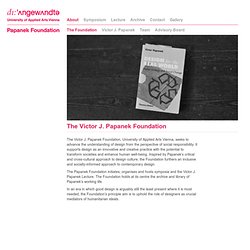 Papanek Foundation, University of Applied Arts Vienna, seeks to advance the understanding of design from the perspective of social responsibility. It supports design as an innovative and creative practice with the potential to transform societies and enhance human well-being. Inspired by Papanek's critical and cross-cultural approach to design culture, the Foundation furthers an inclusive and socially-informed approach to contemporary design.
Elinor Ostrom. Elinor "Lin" Ostrom (born Elinor Claire Awan;[2] August 7, 1933 – June 12, 2012) was an American political economist[3][4][5] whose work was associated with the New Institutional Economics and the resurgence of political economy.[6] In 2009, she shared the Nobel Memorial Prize in Economic Sciences with Oliver E.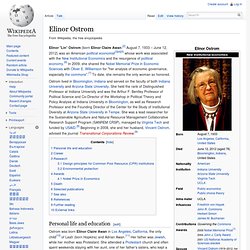 Williamson for "her analysis of economic governance, especially the commons".[7] To date, she remains the only woman so honored. Ostrom lived in Bloomington, Indiana and served on the faculty of both Indiana University and Arizona State University. She held the rank of Distinguished Professor at Indiana University and was the Arthur F. Bentley Professor of Political Science and Co-Director of the Workshop in Political Theory and Policy Analysis at Indiana University in Bloomington, as well as Research Professor and the Founding Director of the Center for the Study of Institutional Diversity at Arizona State University in Tempe.
Jonah Sachs at Compostmodern '11. Designing for Resilience | Hot Studio. Earlier this month I had the privilege of co-presenting at SOCAP's "Designing the Future" conference in Malmö, Sweden.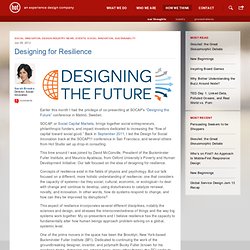 SOCAP, or Social Capital Markets, brings together social entrepreneurs, philanthropic funders, and impact investors dedicated to increasing the "flow of capital toward social good." Back in September 2011, I led the Design for Social Innovation track at the SOCAP11 conference in San Francisco, and several others from Hot Studio set up drop-in consulting. This time around I was joined by David McConville, President of the Buckminster Fuller Institute, and Mauricio Apablaza, from Oxford University's Poverty and Human Development Initiative.
Our talk focused on the idea of designing for resilience. The Secret Life of Things Sustainability Animation. Human Rights Makerlab DMY Festival Berlin. INFOGRAPHIC. The following is an infographic that PublicInterestDesign.org partnered with ArchDaily, the University of Minnesota College of Design, and Tandus Flooring to create.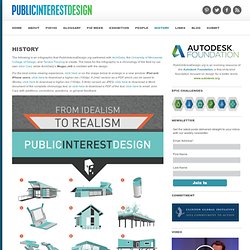 The basis for the infographic is a chronology of the field by our own John Cary, while ArchDaily's Megan Jett is credited with the design. For the best online viewing experience, click here or on the image below to enlarge in a new window; iPad and iPhone users, click here to download a higher-res (150dpi, 8.2mb) version as a PDF, which can be saved to iBooks; click here to download a higher-res (150dpi, 5.8mb) version as JPEG; click here to download a Word document of the complete chronology text, or click here to download a PDF of the text; click here to email John Cary with additions, corrections, questions, or general feedback.
Academy for Global Citizenship. The Academy for Global Citizenship is a unique Chicago Public Charter School, located on the underserved Southwest side of Chicago.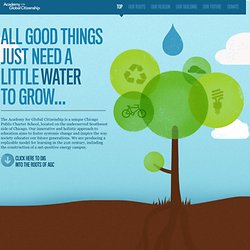 Our innovative and holistic approach to education aims to foster systemic change and inspire the way society educates our future generations. We are producing a replicable model for learning in the 21st century, including the construction of a net-positive energy campus. An AGC education extends beyond a solid academic foundation. How Much Do We Really Recycle?
---