Masini
Bentley Motors Website. International - Market selector page. The Bugatti Page. Home. BMW X6 (2008) Lamborghini Gallardo. The Lamborghini Gallardo (/ɡaɪˈjɑrdoʊ/; Italian: [ɡaʎˈʎardo]) was a sports car built by Lamborghini, their most-produced model to date with over 10,000 built in its first seven years of production and 14,022 being produced throughout its lifetime.[1] Named after a famous breed of fighting bull,[2] the V-10 Gallardo has been Lamborghini's sales leader and stable-mate to a succession of V-12 flagship models—first to the Lamborghini Murciélago (4,099 built between 2001 and 2011), then to the current flagship Lamborghini Aventador.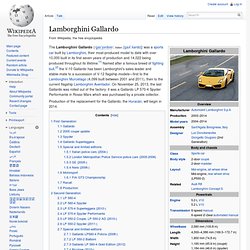 On November 25, 2013, the last Gallardo was rolled out of the factory; it was a Gallardo LP 570-4 Spyder Performante in Rosso Mars which was purchased by a private collector. Production of the replacement for the Gallardo, the Huracán, will begin in 2014. First Generation[edit] Gallardo[edit] Lamborghini Gallardo. Audi A6 (2008) Enzo Ferrari (automobile) An Enzo Ferrari pictured in London.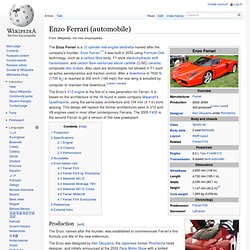 Rear view of an Enzo Ferrari. Enzo Ferrari engine. The Enzo's V12 engine is the first of a new generation for Ferrari. It is based on the architecture of the V8 found in sister-company Maserati's Quattroporte, using the same basic architecture and 104 mm (4.1 in) bore spacing. Bugatti Veyron. Un Bugatti Veyron în California Bugatti Veyron este un automobil de tip GT produs de Bugatti Automobiles SAS, în Franța de Grupul VAG.
Mașina poate atinge o viteză de 420,11 km/h și efectuează ciclul 0 – 100 km/h în 2,6 secunde. Acesta cântărește 2151 kg. Primul autoturism a ieșit pe piață în septembrie 2005 ca cea mai scumpă și rapidă mașină din lume (1,7 milioane de euro).
---