Programming
Want to create a game using C++ and SFML? This is the perfect place to start! This tutorial series will follow the creation of a simple game in C++ from the very beginning till the end, a micro-version of the overall purpose of this site. C++ is an evolving language standard and a great many tutorials out there are horrifically outdated or just plain bad. Similarly, most tutorials in books or on sites are by their very nature required to be very short and concise.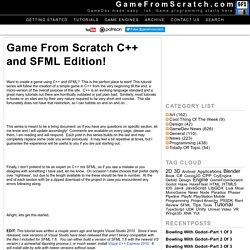 Game From Scratch C++ Edition!
TV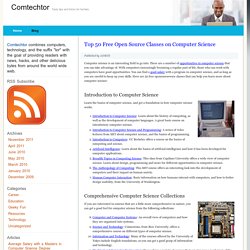 Top 50 Free Open Source Classes on Computer Science : Comtechtor
Computer science is an interesting field to go into. There are a number of opportunities in computer science that you can take advantage of. With computers increasingly becoming a regular part of life, those who can work with computers have good opportunities.
Main - GameTutorials - Programming with a personality, from start to finish
Main - Hackety Hack!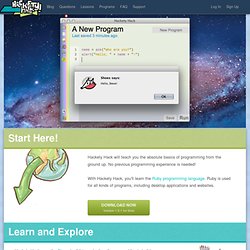 Hackety Hack uses the Shoes toolkit to make it really easy and fun to build graphical interfaces. Several lessons and example programs are provided, showing you how to make all kinds of fun things! Check out what other people are doing with Hackety Hack! The Programs section is chock full of fun projects from other Hackety users. You can even upload your own! Put your account information into the Hackety Hack app, and you'll be able to share all the programs you create.
Main - Extreme Programming: A Gentle Introduction.
The first Extreme Programming project was started March 6, 1996. Extreme Programming is one of several popular Agile Processes. It has already been proven to be very successful at many companies of all different sizes and industries world wide. Extreme Programming is successful because it stresses customer satisfaction. Instead of delivering everything you could possibly want on some date far in the future this process delivers the software you need as you need it. Extreme Programming empowers your developers to confidently respond to changing customer requirements, even late in the life cycle.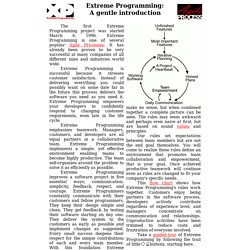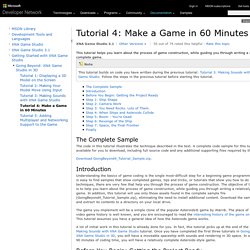 Tutorial 4: Make a Game in 60 Minutes
This tutorial helps you learn about the process of game construction, while guiding you through writing a relatively complete game. The code in this tutorial illustrates the technique described in the text. A complete code sample for this tutorial is available for you to download, including full source code and any additional supporting files required by the sample. Understanding the basics of game coding is the single most-difficult step for a beginning game programmer.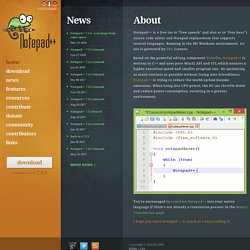 Skip to main content About Notepad++ is a free (as in "free speech" and also as in "free beer") source code editor and Notepad replacement that supports several languages. Running in the MS Windows environment, its use is governed by GPL License.
Home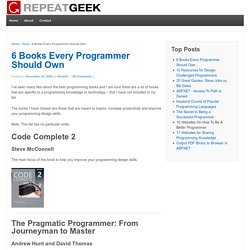 I've seen many lists about the best programming books and I am sure there are a lot of books that are specific to a programming knowledge or technology – that I have not included in my list. The books I have chosen are those that are meant to inspire, increase productivity and improve your programming design skills. Note: This list has no particular order. Code Complete 2 Steve McConnell The main focus of this book to help you improve your programming design skills.
6 Books Every Programmer Should Own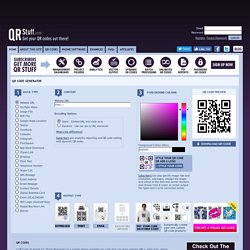 Please Note: Will only work on iPhone and Android devices that have the Skype app installed. 0 chars (max 160) Select your Contact Details QR code type: vCard Format Important: VCARD information embedded in a QR Code will often result in a QR Code too dense for many mobile phones to read.
QR Stuff: Free Printable QR Code Generator, Creator And Encoder For T-Shirts, Labels & Stickers
I hope you have enjoyed our collection of funny computer quotes, Linux quotes, and all those quotes that we have shared with you so far. For today, I've decided to gather a good number of my all-time favorite programming-related quotes. Most of the programming quotes I've collected are made by some of the famous names in the industry, while others came from not-so-famous people. Nevertheless, they are all witty so I hope you will find them fascinating and enlightening. Without further delay, here are my top 50 programming quotes of all time: 50.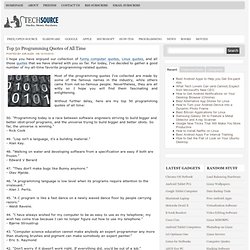 Top 50 Programming Quotes of All Time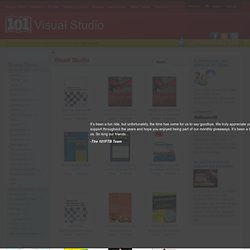 Visual Studio books
Welcome to 101 Free Tech Books 101 Monthly Chances to win REAL Tech Books! 101FreeTechBooks.com gives you 101 chances to win real tech books each month. Simply choose the books of your choice each month and automatically participate for our monthly drawings. How does it works? View the quick guide on how to get started.
Follow these steps to create a simple sprite-based game by using XNA Game Studio. This sample code works on all platforms, including Windows Phone. The code in this tutorial illustrates the technique described in the text. A complete code sample for this tutorial is available for you to download, including full source code and any additional supporting files required by the sample. Before you begin, make sure that you have installed all the necessary software, including a supported version of Microsoft Visual Studio tools and XNA Game Studio. From the Start menu, click All Programs, click the XNA Game Studio 4.0 folder, and then click your supported version of Microsoft Visual Studio tools.
Your First Game - XNA Game Studio in 2D
CSE 190 M, Summer 2010
Get Started : The Official Microsoft Silverlight Site
Programs offer you access to global resources with no upfront cost | Microsoft DreamSpark - It's all about giving students Microsoft professional-level developer and designer tools at no charge so you can chase your dreams and create the next big breakthr
This is a subscription agreement ("agreement") between Microsoft Corporation (or based on where you live, one of its affiliates) and you for the Microsoft DreamSpark Direct student offering ("DreamSpark Direct Subscription"). Please read it. For purposes of this agreement, the term "software" applies to the software provided to you under the DreamSpark Direct Subscription, which includes the media on which you received it, if any. "You", "your" or "student" means a person currently enrolled in and attending courses that lead to academic credit or certification through an accredited educational institution. a. DreamSpark Direct Subscription.
Microsoft DreamSpark
Microsoft DreamSpark
12 Bonehead Misconceptions of Computer Science Professors « The War on Bullshit
by Kavan Wolfe (published on Oct 19) The poster-child for what's wrong with postsecondary education is the computer science program. Despite the enormous need for competent programmers, database administrators, systems administrators, IT specialists and a host of other technical professionals, computer science programs seem to explicitly ignore the professional skills of which western society has growing deficiency and proceed with materials and teaching styles that are outdated, ineffective, useless and just plain wrong. This is due to the absurd misconceptions held by computer science faculty members across many universities. I have personally met computer science professors who believe each of the following things. I make no claims as to how widespread these beliefs are; you can judge that for yourself.
Learn How to Code this Weekend - Lifehacker
Infographic_Programming_Rackspace_Final_Version.png (PNG Image, 1190x12496 pixels)
Development for Beginners | Training, Videos, Tools, Resources, Learning | MSDN
BlueScreen
Working procedures of audio webcasting software.
Poor, poor child. You have no idea. | Bryan Woods
Top 10 Truly Bizarre Programming Languages
Free Books
Holding a Program in One's Head