2011 Japanese Earthquake and Tsunami
Hundreds flee in Japan after Shinmoedake volcano begins spewing ash, boulders
Today's Earthquake Fact The Mid-Atlantic Ridge, a submerged mountain range, which extends from the Arctic Ocean to beyond the southern tip of Africa, is a divergent tectonic plate boundary. It is just one segment of the global mid-ocean ridge system that encircles the Earth. The rate of spreading along the Mid-Atlantic Ridge averages about 2.5 centimeters per year, or 25 km in a million years. The Mid-Atlantic Ridge separates the Eurasian Plate and the North American Plate in the North Atlantic, and separates the African Plate from the South American Plate in the South Atlantic.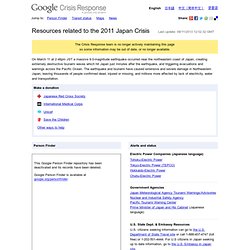 The Crisis Response team is no longer actively maintaining this page so some information may be out of date, or no longer available. On March 11 at 2:46pm JST a massive 9.0-magnitude earthquake occurred near the northeastern coast of Japan, creating extremely destructive tsunami waves which hit Japan just minutes after the earthquake, and triggering evacuations and warnings across the Pacific Ocean. The earthquake and tsunami have caused extensive and severe damage in Northeastern Japan, leaving thousands of people confirmed dead, injured or missing, and millions more affected by lack of electricity, water and transportation.
Related Wirtz on Stock Market Outlook, Japan Earthquake Oil fell below $100 a barrel in New York for the first time in more than a week after Japan's strongest earthquake in at least a century forced refiners to shut several processing plants. U.S. crude futures were headed for their first weekly decline in a month following the temblor in the world's third- largest oil user.
Oil Plunges as Japan's Refiners Shut Plants After Earthquake