2011 Japanese Earthquake and Tsunami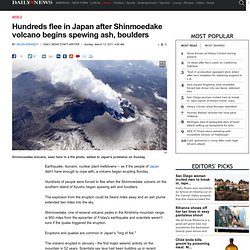 Earthquake, tsunami, nuclear plant meltdowns -- as if the people of Japan didn't have enough to cope with, a volcano began erupting Sunday. Hundreds of people were forced to flee when the Shinmoedake volcano on the southern island of Kyushu began spewing ash and boulders. The explosion from the eruption could be heard miles away and an ash plume extended two miles into the sky. Shinmoedake, one of several volcanic peaks in the Kirishima mountain range, is 950 miles from the epicenter of Friday's earthquake and scientists weren't sure if the quake triggered the eruption.
Hundreds flee in Japan after Shinmoedake volcano begins spewing ash, boulders
Oil fell below $100 a barrel in New York for the first time in more than a week after Japan's strongest earthquake in at least a century forced refiners to shut several processing plants.
Oil Plunges as Japan's Refiners Shut Plants After Earthquake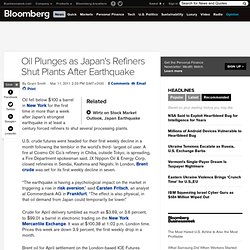 Japan's earthquake shifted balance of the planet