2011 Japanese Earthquake and Tsunami
Hundreds flee in Japan after Shinmoedake volcano begins spewing ash, boulders. Map of the Damage From the Japanese Earthquake. Earthquakes. Today's Earthquake Fact Earthquakes are one of the most costly natural hazards faced by the United States, posing a significant risk to 75 million Americans in 39 States.
Today in Earthquake History April 13, 2010M 6.9, China – At least 2,698 people killed, 270 missing, 12,135 injured and 15,000 buildings damaged in the Yushu area. Felt (IV) at Lhasa, Qiaotou and Xining;… Read More. 2011 Japanese Earthquake and Tsunami. The Crisis Response team is no longer actively maintaining this page so some information may be out of date, or no longer available.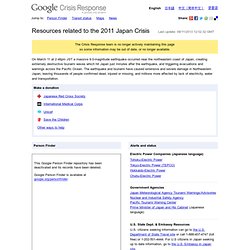 On March 11 at 2:46pm JST a massive 9.0-magnitude earthquake occurred near the northeastern coast of Japan, creating extremely destructive tsunami waves which hit Japan just minutes after the earthquake, and triggering evacuations and warnings across the Pacific Ocean. The earthquake and tsunami have caused extensive and severe damage in Northeastern Japan, leaving thousands of people confirmed dead, injured or missing, and millions more affected by lack of electricity, water and transportation. Oil Plunges as Japan's Refiners Shut Plants After Earthquake. Oil fell below $100 a barrel in New York for the first time in more than a week after Japan's strongest earthquake in at least a century forced refiners to shut several processing plants.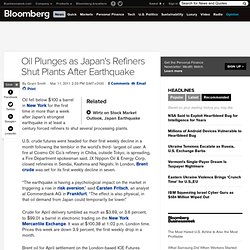 U.S. crude futures were headed for their first weekly decline in a month following the temblor in the world's third- largest oil user. A fire at Cosmo Oil Co.'s refinery in Chiba, outside Tokyo, is spreading, a Fire Department spokesman said. JX Nippon Oil & Energy Corp. closed refineries in Sendai, Kashima and Negishi.
---