STYLES AND ARTISTS
Boxing News and Features at the Official Web site of The Ring Magazine. News : michal lisowski. Elliot Brown Art | Pale Horse Design. "Grey Spirit of the Pineal" Created for my 'Life Forms' Solo Exhibit, July 2013. 30x41in.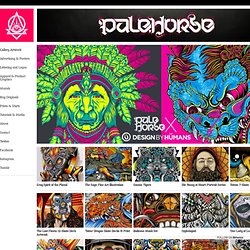 Substrate Print on 10 Layers of Cut & Assembled, Clear Acrylic Glass Purchase Original (While Available)Digital Art, Fine Arts, Illustration2013 The Sage: Fine Art IllustrationIllustration2012 Cosmic Tigers Artwork from "Life Forms" Solo Exhibit July 2013Fine Arts, Illustration2013 Die Young at Heart: Portrait SeriesIllustration, Digital Art2011 Totem pole installation created for the "Splinters & Papercuts" exhibit hosted at the Pale Horse studio space. This one was a labor of love. Always fun to work on personal pieces.Illustration, Graphic Design2010 12 Skate Board Deck depiction of the last supper portrayed by Jesus Christos and his Luchador apostlesIllustration, Digital Art2011 'Tatsu' 9-Skate Deck Artwork & PrintDigital Art, Illustration2012 Balinese mask illustrations by Pale Horse, created for an exhibit called "Honey, Poison & My Country" at Salihara Gallery in Indonesia.
Kelly reemtsen fine art painting. THE ANDY JENKINS WEB MECHANISM. Berk ozturk (berkozturk) Home Page on CG GAllery. Web flash comic. ~ Mr bingo ~ +44(0)7966 280431. SCROLL DOWN. . . . The Art of Brian M. Viveros . . . Grzegorz Domaradzki on the Behance Network. Gabz graduated from the Academy of Fine Arts in Poznań with a Master's degreein Graphic Arts and Drawing.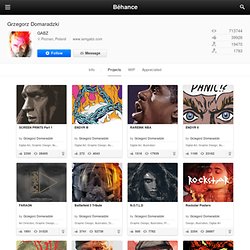 After the graduation, he first worked as an illustrator and later as a graphic designer for various advertising agencies. In 2005, he went freelance and hasn't looked back since. In the early years, Gabz… Read More. Dan Mumford. Computer Arts : mu-illustration. Sketchbook '10 on the Behance Network. Kelly reemtsen. MONAUX ~ Illustration, Typography, Design. Monica Cook Animation. The Art of Travis Louie. Javier Palacios' Photostream. People I Know. Main : Diana Koehne. Mutations : pearpicker illustration.
David Finch Comic Art Search Results. Jeff Soto Art. GALLERY - .: IMSCARED.COM :. by Greg "Craola" Simkins. :DavidChoe.com: Ifrancis. Silocult on deviantART. Fuck It 1.1 Hard Cover out now. Index. Illustrations on the Behance Network. Stephane TARTELIN ::: Illustration, Graphic design, Motion design ::: Paris, France :::
Reconstruct by Rogier de Boevé | Geekiz Magazine. MY 100 CARDBOARDS on the Behance Network. Phlegm- pictures on walls. - byroglyphics-gallery. Mutt Ink ::: A Collection of Varied Visuals. Beautiful Photoshop Illustrations By Artists Around The World - Advertisement Photoshop is a magical tool for digital artists and photographers, and it rules the digital imaging world.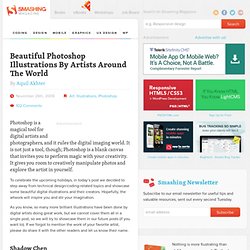 It is not just a tool, though; Photoshop is a blank canvas that invites you to perform magic with your creativity. It gives you room to creatively manipulate photos and explore the artist in yourself. Golucho.
---