Politicus
François-Albert Gandon
Toolbox for web entrepreneurs. Lean startup, webmarketing, Ruby on Rails.
How to Get Good at Chess, Fast Magnus Carlsen's meteoric rise to the top ranked player in the world (at age 19), the highest chess rating in history (age 22), and as of a few days ago, the title of World Chess Champion (age 22) has brought with it a renewed interest in chess. This is exciting, because Carlsen represents the first real hope of renewing chess's mass appeal since the days of Bobby Fischer1. In the context of discussions about Magnus Carlsen, many people mentioned that they enjoyed playing chess but quit because of the sheer time commitment it took to get "good." It turns out there are many misconceptions about rapidly chess improvement. In this post I'm going to lay out a simple but effective way to get good at chess, fast.
How to Get Good at Chess, Fast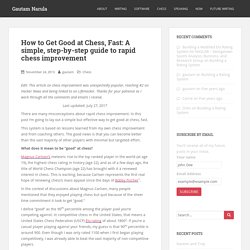 J'ai déjà en ma possession une TV SONY en 46" mais alors là je dois dire que la qualité d'image est presque mieux que celle du salon, j'avais pu lire des avis négatifs (des pro-samsung à mon avis) mais pour une télé de cette taille que j'ai mis dans ma chambre c'est largement mieux que ce que fais la concurrence (au même prix bien entendu!), en plus de la qualité d'image, le système DLNA dont je me sert en permanence est encore plus simple d'utilisation que la PS3 (c'est pour dire à quel point il est simple!), certains critiquent le son, moi je n'irais pas à le critiquer car cette TV remplace une LG qui a une moins bonne qualité sonore, mais n'importe comment, là où j'ai une TV j'ai un home cinéma , donc c'est réglé et je conseille d'ailleurs à tous les déçus du son de leur TV d'en faire autant, car justement c'est une TV.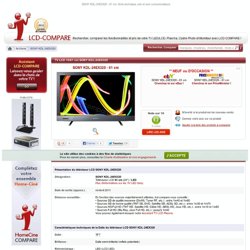 SONY KDL-24EX320 - 61 cm