Tea Party
How the Christie and McDonnell Scandals Hurt the GOP, but Help the Tea Party
GOP presidential candidates Jon Huntsman and Mitt Romney are in New Hampshire to meet with voters. This morning, Huntsman delivered a foreign policy address and Romney held a town hall meeting in the afternoon. Huntsman, the former Utah Governor and U.S. Ambassador to China, unveiled his plans for U.S. foreign policy in a speech at Southern New Hampshire University.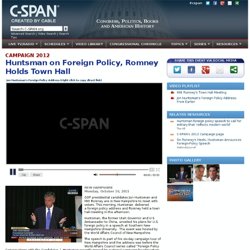 Huntsman on Foreign Policy, Romney Holds Town Hall
Estimated Crowd: 2000
The billionaire Koch brothers' war against Obama
On May 17th, a black-tie audience at the Metropolitan Opera House applauded as a tall, jovial-looking billionaire took the stage.