Tea Party
How the Christie and McDonnell Scandals Hurt the GOP, but Help the Tea Party. Estimated Crowd: 2000.
Blagojevich
The billionaire Koch brothers' war against Obama. On May 17th, a black-tie audience at the Metropolitan Opera House applauded as a tall, jovial-looking billionaire took the stage.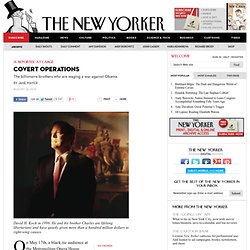 It was the seventieth annual spring gala of American Ballet Theatre, and David H. Koch was being celebrated for his generosity as a member of the board of trustees; he had recently donated $2.5 million toward the company's upcoming season, and had given many millions before that. Koch received an award while flanked by two of the gala's co-chairs, Blaine Trump, in a peach-colored gown, and Caroline Kennedy Schlossberg, in emerald green. Doctors and Tea Party.
---