Shirley Sherrod Debacle
Anderson Cooper 360 Review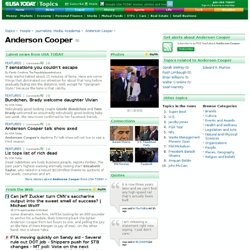 Latest news from USA TODAY TV's Anderson Cooper dishes on dating girls By USA Today
Anderson Cooper Topics Page - USATODAY.com
Anderson Cooper 360: Blog Archive - Video: Shirley Sherrod talks with Obama « - CNN.com Blogs
More Fallout From The Shirley Sherrod Firing With Annoying Fake Balance And Some Kowtowing To The Right Wing
Shirley Sherrod named Georgia Director of Rural Development
RDLN Graduate and Board Vice Chair Shirley Sherrod was appointed Georgia Director for Rural Development by Secretary of Agriculture Tom Vilsack on July 25.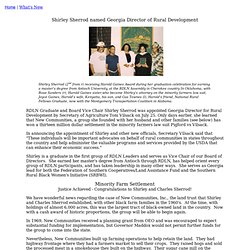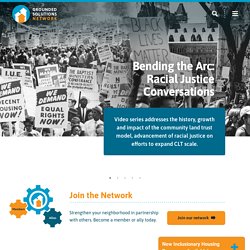 Keynote Speaker - Shirley Sherrod - National Community Land Trust Network
Shirley Sherrod is the director of field operations for the Federation of Southern Cooperatives in Georgia. For more than 30 years, Shirley has devoted her life to the civil rights movement by working on social justice issues. Through her work at the Federation of Southern Cooperatives, she developed a program of outreach, education, and technical assistance for small and limited resource farmers throughout Georgia.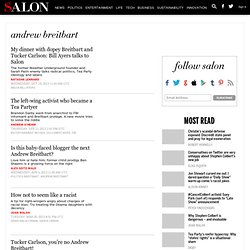 Media refuses to burn Breitbart - Shirley Sherrod
My dinner with dopey Breitbart and Tucker Carlson: Bill Ayers talks to Salon The former Weather Underground founder and Sarah Palin enemy talks radical politics, Tea Party ideology and labels Natasha Lennard Wednesday, Oct 16, 2013 11:43 AM UTC Media Bill Ayers The left-wing activist who became a Tea Partyer Brandon Darby went from anarchist to FBI informant and Breitbart protégé.
Ex-USDA Official Sherrod At Center Of Media Storm
President Obama has called and chatted with Shirley Sherrod. Tom Vilsack and Ben Jealous have issued heartfelt apologies. There is talk of a "Chardonnay summit" in the Rose Garden.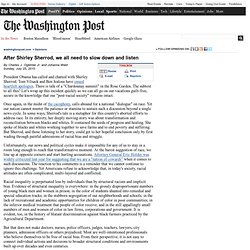 Charles J. Ogletree Jr. and Johanna Wald - After Shirley Sherrod, we all need to slow down and listen
Resignation of Shirley Sherrod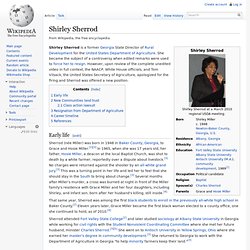 Early life[edit]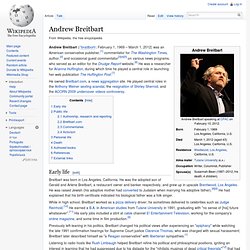 Andrew Breitbart (/ˈbraɪtbɑrt/; February 1, 1969 – March 1, 2012) was a conservative American publisher,[1] commentator for The Washington Times, author,[2] and occasional guest commentator[3][4][5] on various news programs, who served as an editor for the Drudge Report website.[6] He was a researcher for Arianna Huffington, during which time he played a central role in launching her web publication The Huffington Post.[7] He owned the news aggregation site, Breitbart.com, as well as five other websites: Breitbart.tv, Big Hollywood, Big Government, Big Journalism, and Big Peace. He played central roles in the Anthony Weiner sexting scandal, the resignation of Shirley Sherrod, and the ACORN 2009 undercover videos controversy.
Andrew Breitbart
Breitbart fiddles while the MSM refuses to burn him - Scott Rosenberg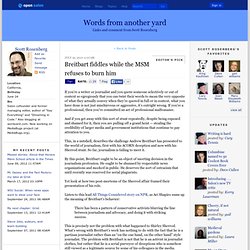 If you're a writer or journalist and you quote someone selectively or out of context so egregiously that you can twist their words to mean the very opposite of what they actually convey when they're quoted in full or in context, what you have done is not just mischievous or aggressive, it's outright wrong. If you're a professional, then you've committed an act of professional malfeasance.
Bob Herbert On Shirley Sherrod: Obama Running From Race Issue
Seeing the Forest
James Zogby: I Understand Shirley Sherrod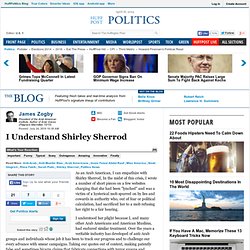 As an Arab American, I can empathize with Shirley Sherrod, In the midst of this crisis, I wrote a number of short pieces on a few websites charging that she had been "lynched" and was a victim of a hysterical mob spurred on by lies and cowards in authority who, out of fear or political calculation, had sacrificed her to a mob refusing her right to a fair hearing.
Op-Ed Columnist - Shirley Sherrod, Thrown to the Wolves
Shirley Sherrod / Sister Soldier
WASHINGTON, DC Over the last 72 hours, the world has learned the current state of civil rights at the United States Department of Agriculture and witnessed a surprising lack of political courage from the Obama Administration regarding the forced resignation of Georgia State Director Shirley Sherrod. I am a USDA whistleblower. I reported $40 million in government waste, fraud and abuse at USDA during the Clinton Administration, and I have one of the thousands of unresolved EEO cases that Secretary Vilsack referenced. The question I have is "Who is Cheryl Cook?"