Save the Whales
Obama Under Fire for Backing Deal to Lift Global Ban on Commerci. President Obama is under fire for backing a deal to lift a 24-year-old international ban on commercial whaling.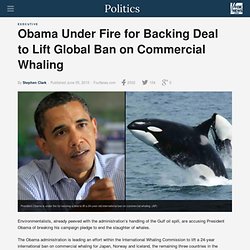 (AP) Environmentalists, already peeved with the administration's handling of the Gulf oil spill, are accusing President Obama of breaking his campaign pledge to end the slaughter of whales. Pierce Brosnan Takes President Obama to Task on Whaling Issue - 06/04/2010 at 05:10 PM EDT As British spy James Bond, Pierce Brosnan battled many fictional bad guys – but now the actor is fighting for a good cause: He wants to help save the whales.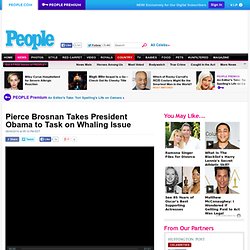 In a new PSA for the International Fund for Animal Welfare, Brosnan directly addresses President Barack Obama, telling him that "whales face more threats today than ever before" from everything from pollution to professional whalers to climate change. Wayne Pacelle: While Australia Leads for Whales, U.S. Lags. Humane Society International and The Humane Society of the United States, together with actor Pierce Brosnan and his wife, Keely Shaye Smith, are asking supporters to take action to save whales -- again.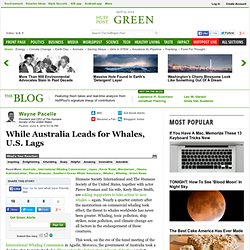 Nearly a quarter century after the moratorium on commercial whaling took effect, the threat to whales worldwide has never been greater. Whaling, toxic pollution, ship strikes, noise pollution, and climate change are all factors in the endangerment of these creatures. This week, on the eve of the 62nd meeting of the International Whaling Commission in Agadir, Morocco, the government of Australia took a decisive step to protect whales, filing suit in the International Court of Justice against Japan's "scientific whaling" in the Southern Ocean.
Wayne Pacelle. The Humane Society of the United States: A personal mess. June 3, 2010 Dear Friend, I'm writing to you today because my friends at The Humane Society of the United States and I need your help.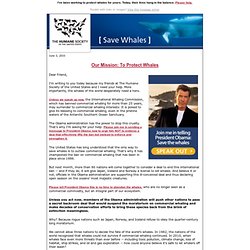 More importantly, the whales of the world desperately need a hero. Unless we speak up now, the International Whaling Commission, which has banned commercial whaling for more than 25 years, may surrender to commercial whaling interests: It is poised to give its blessing to commercial whaling, even in the pristine waters of the Antarctic Southern Ocean Sanctuary. The Obama administration has the power to stop this cruelty. A License to Kill…Whales? « International Fund for Animal Welfar.
Pierce Brosnan issues license to save the whales. Delaware doesn't get many whales.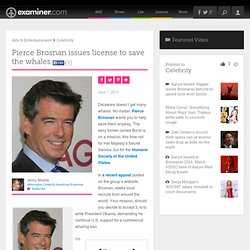 No matter. Pierce Brosnan wants you to help save them anyway. Pierce Brosnan Urges Obama to 'Save the Whales' The actor says the president's support of a new compromise bill is essentially a 'license to kill' cetaceans.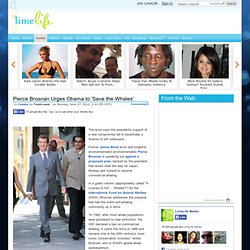 Former James Bond actor and longtime environmentalist environmentalist Pierce Brosnan is speaking out against a proposed plan, backed by the president, that would clear the way for Japan, Norway and Iceland to resume commercial whaling. In a guest column (appropriately called "A License to Kill ... Whales? ") for the International Fund for Animal Welfare (IFAW,) Brosnan addresses the proposal that has the entire anti-whaling community up in arms.
---