Green Tech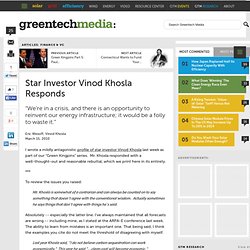 Star Investor Vinod Khosla Responds : Greentech Media
I wrote a mildly antagonistic profile of star investor Vinod Khosla last week as part of our "Green Kingpins" series. Mr. Khosla responded with a well-thought-out and reasonable rebuttal, which we print here in its entirety. To review the issues you raised: Mr. Khosla is somewhat of a contrarian and can always be counted on to say something that doesn't agree with the conventional wisdom.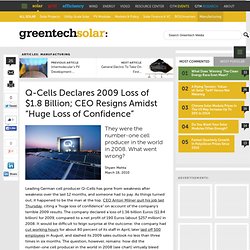 Leading German cell producer Q-Cells has gone from weakness after weakness over the last 12 months, and someone had to pay. As things turned out, it happened to be the man at the top. CEO Anton Milner quit his job last Thursday , citing a "huge loss of confidence" on account of the company's terrible 2009 results.
Q-Cells Declares 2009 Loss of $1.8 Billion; CEO Resigns Amidst :
What Does It Take To Be An Ambassador? | EcoTuesday | The Sustai
CleanTech Perils When Relying on Government Subsidies - Planet Y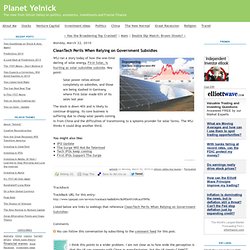 WSJ ran a story today of how the one-time darling of solar energy, First Solar, is hurting as solar subsidies subside . Key point: Solar power relies almost completely on subsidies, and those are being slashed in Germany, where First Solar made 65% of its sales last year The stock is down 40% and is likely to continue dropping. Its core business is suffering due to cheap solar panels coming in from China and the difficulties of transitioning to a systems provider for solar farms.
Startup Hopes to Help Car Owners Rent Vehicles to Others - Digit
By Cari Tuna A San Francisco startup is trying to change California's car-insurance law to kick-start a novel business: an online system for people to rent their cars to friends and neighbors, with the aid of social-networking sites. The startup, Spride Inc., aims to capitalize on the growing popularity of car sharing, in which city dwellers rent cars from companies like Zipcar Inc. and City CarShare. Those companies own fleets of vehicles, sprinkled throughout certain US cities, which customers reserve online or by phone for trips to the grocery store, hauling furniture and other activities. Spride wants to take the concept a step further, without requiring a company-owned vehicle fleet.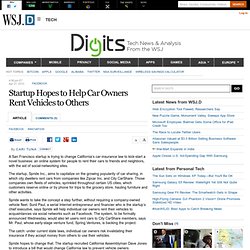 Enable Personal Vehicle Sharing - AB1871
Why the Senate climate bill is on life support | Greenspace | Lo
Monday was to be a launch party for supporters of a congressional push to limit greenhouse gas emissions and boost domestic energy production. Sens. John F. Kerry (D-Mass.), Joe Lieberman (I-Conn.) and Lindsey Graham (R-S.C.) were to roll out their long-negotiated version of the climate bill the House passed last year, along with endorsements from environmental groups, utility executives and even oil companies. You know what they say about best-laid plans.