Gibbs Lose House
44 - Cantor: GOP will retake the House in November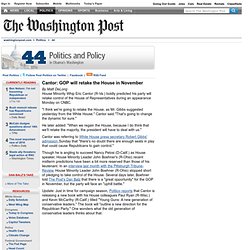 By Matt DeLong House Minority Whip Eric Cantor (R-Va.) boldly predicted his party will retake control of the House of Representatives during an appearance Monday on CNBC. "I think we're going to retake the House, as Mr. Gibbs suggested yesterday from the White House."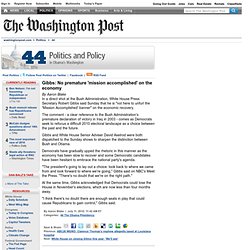 44 - Gibbs: No premature 'mission accomplished' on the economy
By Aaron Blake In a direct shot at the Bush Administration, White House Press Secretary Robert Gibbs said Sunday that he is "not here to unfurl the 'Mission Accomplished' banner" on the economic recovery. The comment - a clear reference to the Bush Administration's premature declaration of victory in Iraq in 2003 - comes as Democrats seek to refocus a difficult 2010 electoral landscape as a choice between the past and the future.
Meet the Press
Same Sex Marriage Before the Court It was a historic week at the Supreme Court as it heard oral arguments on two cases regarding the rights of same-sex couples. But as the political winds seem to be changing, will the increased public support translate to the result at the Supreme Court? This Sunday, we'll have a special conversation about the politics of same-sex marriage and the implications from this week's Supreme Court hearings. Joining us: Actor Rob Reiner, who was a vocal critic of California's Proposition 8 and attended the hearings this week; President of the National Organization for Marriage Brian Brown; the Wall Street Journal's Peggy Noonan; founder and President of the National Action Network, MSNBC's Rev.
White House: Republicans could win control of House