Gibbs Lose House
Cantor: GOP will retake the House in November. By Matt DeLong House Minority Whip Eric Cantor (R-Va.) boldly predicted his party will retake control of the House of Representatives during an appearance Monday on CNBC.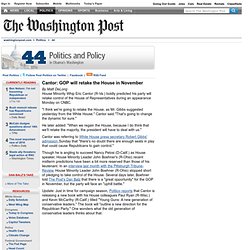 "I think we're going to retake the House, as Mr. Gibbs suggested yesterday from the White House. " Gibbs: No premature 'mission accomplished' on the economy. By Aaron Blake In a direct shot at the Bush Administration, White House Press Secretary Robert Gibbs said Sunday that he is "not here to unfurl the 'Mission Accomplished' banner" on the economic recovery.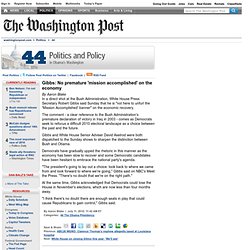 The comment - a clear reference to the Bush Administration's premature declaration of victory in Iraq in 2003 - comes as Democrats seek to refocus a difficult 2010 electoral landscape as a choice between the past and the future. Gibbs and White House Senior Adviser David Axelrod were both dispatched to the Sunday shows to sharpen the distinction between Bush and Obama. Democrats have gradually upped the rhetoric in this manner as the economy has been slow to recover and some Democratic candidates have been hesitant to embrace the national party's agenda. "The president's going to lay out a choice: look back to where we came from and look forward to where we're going," Gibbs said on NBC's Meet the Press. "There's no doubt that we're on the right path.
---