Arizona Immigration
Arizona Governor Questions President on Immigration « Row 2, Sea. Welcomes AZ Governor Jan Brewer to the White House With SB1070 P. SEIU Local 32BJ members and immigration reform activists rally against AZ's SB1070 outside the White House.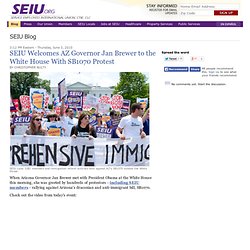 When Arizona Governor Jan Brewer met with President Obama at the White House this morning, she was greeted by hundreds of protestors - including SEIU members - rallying against Arizona's draconian and anti-immigrant bill, SB1070. Check out the video from today's event: According to SEIU Executive VP Eliseo Medina, the bill was "largely designed to energize the Republican Party base during primary season at the expense of immigrants.
Speak out against Arizona's immigration law. Right Wing: Brewer-Obama Immigration Summit a Fence to Nowhere - Morning Links: President Obama to Meet Jan Brewer Today, Tony Ha. • Arizona Governor Jan Brewer will meet President Obama today at the White House.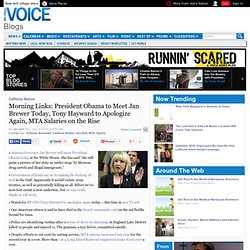 She has said "she will paint a picture of her state as 'under siege' by Mexican drug cartels and illegal immigrants. " • Government officials say no to nuking the leaking oil well in the Gulf. Apparently it would violate arms treaties, as well as potentially killing us all. Effort we've-now-lost-count is now underway, but no one really thinks it will work. Oil, Immigration, Romanoff: Is the Obama Administration Falling. In any other month, having a meeting with the Arizona Gov.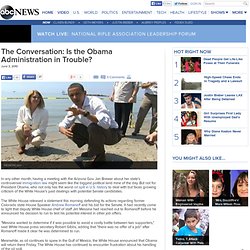 Jan Brewer about her state's controversial immigration law might seem like the biggest political land mine of the day. But not for President Obama, who not only has the worst oil spill in U.S. history to deal with but faces growing criticism of the White House's past dealings with potential Senate candidates. Top Stories: Arizona Gov. Jan Brewer, Obama discuss illegal immi. §. Arizona governor signs immigration bill. Arizona immigration bill becomes law Executive order requires training on implementing law without racial profilingMeasure "threatens to undermine basic notions of fairness," Obama saysBill requires immigrants to carry papers at all times Phoenix, Arizona (CNN) -- Arizona Gov.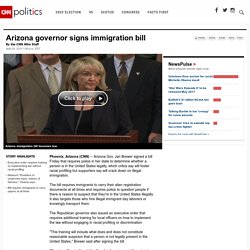 Arizona governor signs immigration law; foes promise fight. By Craig Harris, Alia Beard Rau and Glen Creno - Apr. 24, 2010 12:00 AM The Arizona Republic Moments after Gov.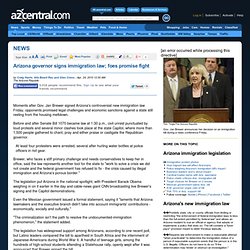 Jan Brewer signed Arizona's controversial new immigration law Friday, opponents promised legal challenges and economic sanctions against a state still reeling from the housing meltdown. Before and after Senate Bill 1070 became law at 1:30 p.m., civil unrest punctuated by loud protests and several minor clashes took place at the state Capitol, where more than 1,500 people gathered to chant, pray and either praise or castigate the Republican governor.
At least four protesters were arrested, several after hurling water bottles at police officers in riot gear. Brewer, who faces a stiff primary challenge and needs conservatives to keep her in office, said the law represents another tool for the state to "work to solve a crisis we did not create and the federal government has refused to fix - the crisis caused by illegal immigration and Arizona's porous border. " Gov. Jan Brewer Signs Controversial Arizona Immigration Bill: De. PHOENIX — Gov.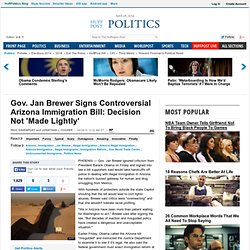 Jan Brewer ignored criticism from President Barack Obama on Friday and signed into law a bill supporters said would take handcuffs off police in dealing with illegal immigration in Arizona, the nation's busiest gateway for human and drug smuggling from Mexico. With hundreds of protesters outside the state Capitol shouting that the bill would lead to civil rights abuses, Brewer said critics were "overreacting" and that she wouldn't tolerate racial profiling. Arizona Enacts Stringent Law on Immigration. The move unleashed immediate protests and reignited the divisive battle over immigration reform nationally.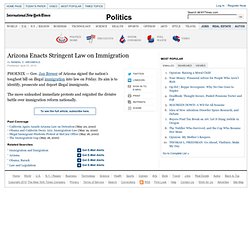 Even before she signed the bill at an afternoon news conference here, strongly criticized it. Speaking at a naturalization ceremony for 24 active-duty service members in the Rose Garden, he called for a federal overhaul of immigration laws, which Congressional leaders signaled they were preparing to take up soon, to avoid "irresponsibility by others." The Arizona law, he added, threatened "to undermine basic notions of fairness that we cherish as Americans, as well as the trust between police and our communities that is so crucial to keeping us safe."
Arizona Immigration bill and tourism and travel in Arizona. According to the Arizona Republic, business leaders in the tourism industry are deeply concerned about the impact of the new Arizona Immigration bill on the economics of travel in the state.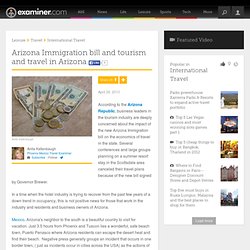 Several conferences and large groups planning on a summer resort stay in the Scottsdale area canceled their travel plans because of the new bill signed by Governor Brewer. In a time when the hotel industry is trying to recover from the past few years of a down trend in occupancy, this is not positive news for those that work in the industry and residents and business owners of Arizona. Mexico, Arizona's neighbor to the south is a beautiful country to visit for vacation. Poem: Arizona Immigration Law & Senator John McCain - Salem-News. Apr-28-2010 13:50 Poetry by Luke Easter Salem-News.com "As a former marine I am honored by your call to duty & sacrifice, But you and no one alive should deny any minority a better life.
" (LOS ANGELES) - What do you think of John McCain's politics? Arizona immigration law sparks controversy. Manuel Valdes (manevaldes) How Sarah Palin Has Become a Singular National Industry -- New Y. On the morning of July 3, 2009, a national holiday, Sarah Palin placed a call to her communications director and told her that she wanted to hold a press conference at her Wasilla, Alaska, home.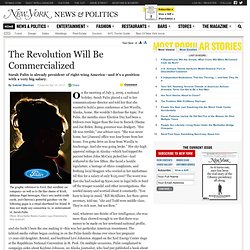 She wouldn't disclose the topic. For Palin, the months since Election Day had been a letdown even bigger than the loss to Barack Obama and Joe Biden. Obama Sides Against America. RUSH: Where are we? We have a federal government that refuses to enforce federal immigration law and a state that is. The president ought to just come out and say right now, "Look, even though I took an oath to uphold the Constitution and the law of the land, I'm not going to. I don't give a damn about the people of Arizona or the people in any of the border states. I don't give a damn about the people of this country generally. AZ bill could send immigrants to NM. Immigration Decision Endangers Climate Change Bill. The decision by Arizona's Gov.
Jan Brewer to sign a tough immigration bill for her state has endangered unrelated, but highly anticipated, climate change legislation, which has now been put on hold by its sponsors on Capitol Hill. Sen. Lindsey Graham, the lead Republican sponsor of the climate bill, sent a letter Saturday to supporters of the measure threatening to abandon the effort without assurances from President Obama that climate change, and not immigration reform, will be his highest legislative priority.
Following Graham's announcement, the bill's Democratic sponsor, Sen. John Kerry, said that he and Sen. Bart Motes: Arizona's Immigration Law is Racist (I Hope) When Arizona Governor Jan Brewer signed Senate Bill 1070 into law, I hope that she and the legislators who passed it were motivated purely by absolutely venomous racism.
I've read the bill, and there are really only two ways to interpret what it intends to accomplish. Either: (a) The design is to target brown skinned people who either don't speak English or speak English with an accent, i.e., pure racial profiling, ShareThis Governor Jan Brewer has just opened "Pandora's Box" and has now put a legal stamp on racial profiling, promoting not only hate but giving "political crazies" a forum to preach from. One politician who opposes her tough immigration law is U.S. congressman, Rep. Raul Grijalva. Greta Van Susteren | On The Record With Greta - FOXNews.com.
---
politicsgirl May 5 2010

yes, and it the most strigent human rights legislation passed in the US since slavery was law

objectifmars May 5 2010

More than that I think it's one example of a biggest ligne of thoughts or feelings : the syndrom of the besieged citadel. Think about the ramparts build in different place like Israël, between USA and Mexico or between school and "the Street" or the community in USA or England surrounded by vigils and walls or CCTV whose come until in toilet of schools. The fear it's a democracy enemy and now people have fear from strangers to them own kids.

wallen May 5 2010

Objectifmars, from Europe to US it really becomes a global "occidental" theme.
---