COULEURS
Color Reader Script. This script is simply another utility tool related to color topics.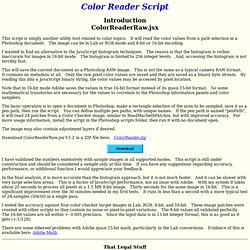 It will read the color values from a path selection in a Photoshop document. The image can be in Lab or RGB mode and 8-bit or 16-bit encoding. I wanted to find an alternative to the JavaScript histogram techniques. The Coloring Pages: Java conversion applet for CIE color metrics, Hunter Lab, RGB. Color Fields Colr Pickr.
Color Fields Experimental Colr Pickr - Jim Bumgardner Other Colr Pickrs: Color Fields, Flowers, Crayon Box, Squared Circle, Graffiti, Flickr Central, Doors and Windows, Macro, Textures, Urban Decay, Catchy Colors, Stock Repository, JPG Magazine Want to make your own?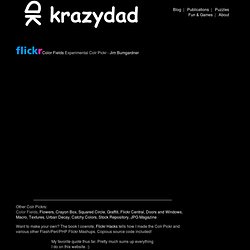 The book I cowrote, Flickr Hacks tells how I made the Colr Pickr and various other Flash/Perl/PHP Flickr Mashups. Copious source code included! Other fun stuff from Jim:Sudoku and other puzzlesWhitney Music BoxStick Figures in Peril - and other Flickr MosaicsFlickr Chia Pet. Multicolr Search Lab - Idée Inc.
Ecole nationale supérieure Louis-Lumière: Mise en oeuvre d'un circuit de gestion de la couleur. FM 100 Hue Test. Color Conversion programs, off-line. Le diagramme CIE XYZ. La construction du diagramme CIE-xy est une aventure passionnante pour les ingénieurs de l'époque, car il a fallu crée de toute pièce certains concepts théoriques encore inexistants.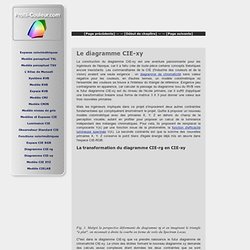 Les commanditaires de la CIE (l'industrie des couleurs et de la vision) avaient une seule exigence : un diagramme de chromaticité sans valeur négative pour les couleurs, en d'autres termes, un modèle colorimétrique où l'ensemble des couleurs se trouve à l'intérieur du triangle de référence. Exigence peu contraignante en apparence, car calculer le passage du diagramme issu du RVB vers le futur diagramme CIE-xy est du niveau de l'école primaire, car il suffit d'appliquer une transformation linéaire sous forme de matrice 3 X 3 pour donner une valeur aux trois nouvelles primaires.
Mais les ingénieurs impliqués dans ce projet s'imposèrent deux autres contraintes fondamentales qui compliquèrent énormément le projet.
---