Travel
10 amazing hiking trails. These ten classic trekking routes are suitable for these athletes.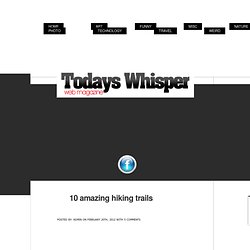 They all require a strong pair of lungs, legs, and a good level of preparation. However, anyone who chooses one of these routes will be richly rewarded by the experience that will stay with him for the rest of the life and become the pride to tell the children and grandchildren. GR20, France This people-oriented endurance of 15 days (168 km) hike through Corsica is legendary thanks to the variety of landscapes. Here the traveler can see woods, granite lunar landscapes, open winds craters, glacial lakes, streams, bogs, McKee, snow-covered peaks, plains and other natural beauty.
10 places you should visit before you die & Go! from HomeAway - StumbleUpon. UPDATE: Discover the best places on earth and receive personalised travel recommendations with HomeAway's new microsite Places to See Before You Die, your guide to the world's once in a lifetime destinations.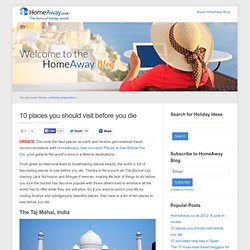 From great architectural feats to breathtaking natural beauty, the world is full of fascinating places to see before you die. Thanks to films such as The Bucket List, starring Jack Nicholson and Morgan Freeman, making life lists of things to do before you kick the bucket has become popular with those determined to embrace all the world has to offer while they are still alive. So if you want to enrich your life by visiting diverse and outrageously beautiful places, then here is a list of ten places to see before you die. 50 Reasons to Be Pretty Damn Euphoric You Live in New York City - New York News - Runnin Scared - StumbleUpon. Sometimes life seems hard here -- the crowds, the expense, the 24-hour-living-and-working lifestyle...But then there are days, like yesterday, when we're ever so glad we live in New York City.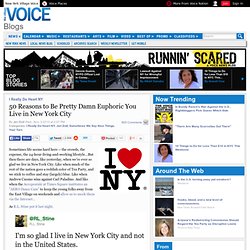 Like when much of the rest of the nation goes a reddish color of Tea Party, and we stick to coffee and stay (largely) blue. Like when Andrew Cuomo wins against Carl Paladino. And like when the Aeropostale at Times Square institutes an "AERO Dance Cam" to keep the young folks away from the East Village on weekends and allow us to mock them via the Internet... Free Things to Do in New York City | New York City Features | Fodors Travel Guides.
If you think everything in New York costs too much, well, you're right—almost.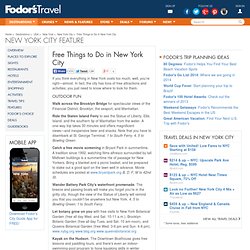 In fact, the city has tons of free attractions and activities; you just need to know where to look for them. Outdoor Fun Walk across the Brooklyn Bridge for spectacular views of the Financial District, Brooklyn, the seaport, and Manhattan. Creepy, Crusty, Crumbling: Illegal Tour of Abandoned Six Flags New Orleans [75 Pics] Hurricane Katrina killed this clown.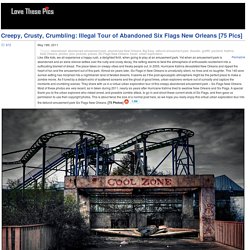 According to the photographer, "An abandoned Six Flags amusement park, someone spray painted 'Six Flags 2012 coming soon' on the wall above the downed head. But they were clownin.' Six Flags will never rebuild here." How to Travel Full-Time for $17,000 a Year (or Less!) | Wise Bread - StumbleUpon. Wise Bread Picks For the last five years, I've been traveling the world full-time, and for less money than I've ever spent (and I'd wager less money than most people would spend) to live in one place.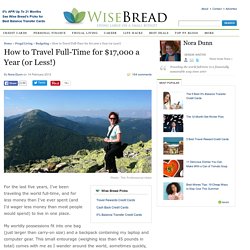 My worldly possessions fit into one bag (just larger than carry-on size) and a backpack containing my laptop and computer gear. 10 World's Greenest Countries | Green Buzz - StumbleUpon. The Environmental Performance Index (EPI) is a method of measuring the performance of national governments related to environmental policies.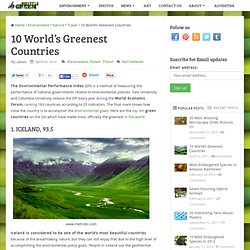 Yale University and Columbia University release the EPI every year during the World Economic Forum, ranking 163 countries according to 25 indicators. The final mark shows how close the country is to accomplish the environmental goals. Here are the top ten green countries on the list which have made most, officially the greenest in the world. 1.
---