#OpSyria : quand Bachar el-Assad coupait Internet et le reste…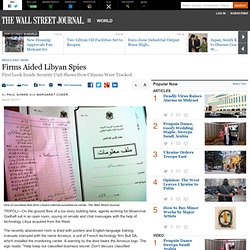 Foreign Firms Helped Gadhafi Spy on Libyans
TRIPOLI—On the ground floor of a six-story building here, agents working for Moammar Gadhafi sat in an open room, spying on emails and chat messages with the help of technology Libya acquired from the West. The recently abandoned room is lined with posters and English-language training manuals stamped with the name Amesys, a unit of French technology firm Bull SA, which installed the monitoring center. A warning by the door bears the Amesys logo.
Syrian security forces besieged a new town in the country's northwest on Saturday, using helicopters to bring in troops and special forces as President Bashar al-Assad's regime escalates a campaign to crush dissent in restive towns. Thirteen people were killed in indiscriminate shooting by security forces, after they surrounded the town of Jisr al-Shaghour, near the city of Idlib, said Rami Abdel Rahman, head of the London-based...
Syrian Forces Besiege Town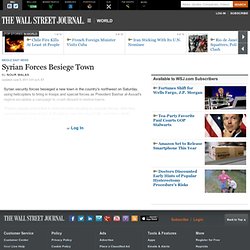 Telecomix Syria (TelecomixSyria) sur Twitter
Telecomix : Syria - - News From The Ground -
Connexion non certifiée
.هذا انهيار مدروس و مؤقت للإنترنيت. من فضلكم اقرؤوا الرسالة التالية بعناية و قوموا بنشرها إن نشاطاتكم على الإنترنيت مراقبة إيميلاتكم و صناديق بريدكم الإلكتروني، حساباتكم على الفايسبوك، حساباتكم على تويتر و جميع نشاطاتكم على الإنترنيت تخضع للمراقبة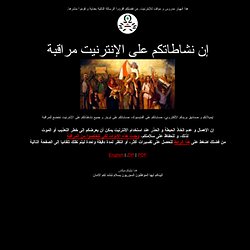 تحذير أمان عالي المستوى
#OpSyria: Quand internet ne laisse pas tomber les citoyens Syriens
Nous avons beaucoup écrit à propos du contrôle et de la censure d'Internet en Syrie. Nous avons vu comment les autorités, avec le soutien (peut-être indirect) de l'éditeur Bluecoat, ont espionné la grande majorité de leur population dans le but d'arrêter de potentiels opposants. Cela a notamment conduit certains activistes à être torturés dans le but d'obtenir leurs identifiants Facebook ou Gmail, autorisant les autorités à repérer tour à tour leurs amis et proches. Bien que cette situation grave soit toujours en constante évolution et necessite une attention constante, elle a déjà été décrite et critiquée de façon incessante depuis un mois, mais très peu d'attention a été portée aux moyens destinés à améliorer les conditions de communication dont disposent les citoyens Syriens.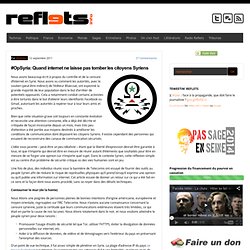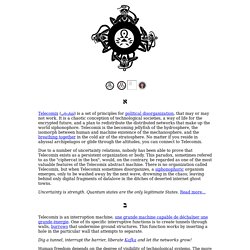 Telecomix is a sociocyphernetic telecommunist feminist cluster of internet and data loving bots and people, always striving to protect and improve the internet and defend the free flow of data. Telecomix, just like the Internet, knows no borders technological or territorial. We have no specific agenda, IRCocratic leadership and no pre-determined practices. We are an occurance rather than a group; a siphonophoric organism transmitting its genome through memes and imitation rather than through rules and regulations. We are in love with the internet, we call this datalove , and if you want, you can join us simply by stepping into our chat below. A lot of our work takes place in sub-clusters, autonomous groups spawned from the main Telecomix organism.