Wikileaks
Julian Assange, co-founder of WikiLeaks, has announced that the whistleblowing website is suspending publishing operations in order to focus on fighting a financial blockade and raise new funds. Assange, speaking at a press conference in London on Monday, said a banking blockade had destroyed 95% of WikiLeaks' revenues. He added that the blockade posed an existential threat to WikiLeaks and if it was not lifted by the new year the organisation would be "simply not able to continue". The website, behind the publication of hundreds of thousands of controversial US embassy cables in late 2010 in partnership with newspapers including the Guardian and New York Times, revealed that it was running on cash reserves after "an arbitrary and unlawful financial blockade" by the Bank of America, Visa, Mastercard, PayPal and Western Union. WikiLeaks said in a statement: "The blockade is outside of any accountable, public process. It is without democratic oversight or transparency.
WikiLeaks suspends publishing to fight financial blockade | Media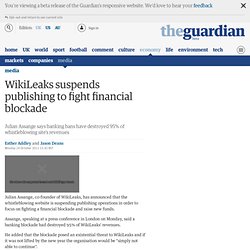 Les documents diplomatiques de WikiLeaks, une première historique
Le Monde.fr | • Mis à jour le | Par Jean-Marc Dreyfus, maître de conférences en histoire a l'Universite de Manchester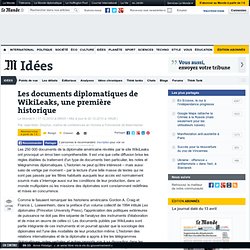 December 2, 2010 | Like this article? Join our email list: Stay up to date with the latest headlines via email. Media speculation about the motives behind Wikileaks and its mercurial founder Julian Assange is somewhat entertaining in light of the fact that Assange has laid it out in great detail -- in essay form, no less.
Is the Crackdown on Wikileaks and Threats of Julian Assange's Arrest Exactly What He Was Planning?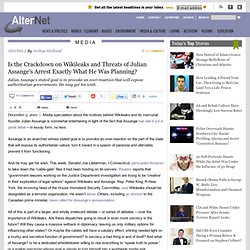 REMEMBER Napster? In July 2001 a court told it to block access to copyrighted music files. But this did not stop people swapping tunes—and Napster returned as a legal subscription service. Similarly, WikiLeaks may die, but leaking will not. An existing rival is Cryptome, founded in 1996 as a part-time "amateur operation" by John Young and Deborah Natsios, two New York architects with libertarian leanings.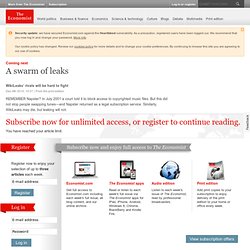 Coming next: A swarm of leaks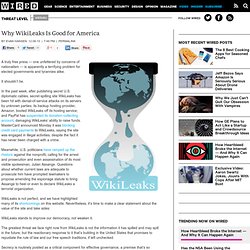 A truly free press — one unfettered by concerns of nationalism — is apparently a terrifying problem for elected governments and tyrannies alike.
WikiLeaks has created a new media landscape | Clay Shirky | Comment is free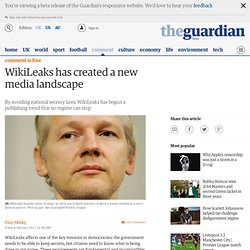 WikiLeaks affects one of the key tensions in democracies: the government needs to be able to keep secrets, but citizens need to know what is being done in our name. These requirements are fundamental and incompatible; like the trade-offs between privacy and security, or liberty and equality, different countries in different eras find different ways to negotiate those competing needs. In the case of state secrets v citizen oversight, however, there is one constant risk: since deciding what is a secret is itself a secret, there is always a risk that the government will simply hide an increasing amount of material of public concern. One response to this risk is the leaker, someone who believes that key elements of political life are being wrongly kept from public view, and who circulates that material on his or her own.
With condolences to the iPad and Sarah Palin's Twitter account, WikiLeaks is the media story of our time. Since the one-two punch of the release of military reports about the wars in Iraq and Afghanistan, and November's trove of diplomatic cables, the government, the media, and the public have been playing catch-up with the implications of this new media frontier. Much of the traditional media has seemed lost on how to handle this hi-tech interloper.
Traditional papers didn't know how to handle WikiLeaks | Arianna Huffington | Comment is free
Alan Rusbridger, du Guardian : "WikiLeaks a instauré un nouveau type de rapports entre journalisme et technologie" - Le monde bouge
WikiLeaks, ruiné, ne publiera plus rien jusqu'à nouvel ordre - Culture – Toute l'actualité culturelle
"WikiLeaks est aujourd'hui contraint de suspendre temporairement ses activités de publication." Julian Assange a son bracelet électronique au poignet.