Presse et nouveaux supports
The survival of quality news calls for a new approach to writing and reporting. Inspiration could come from blogging and magazine storytelling and also bring back memories of the 70s new journalism movement. News reporting is aging badly.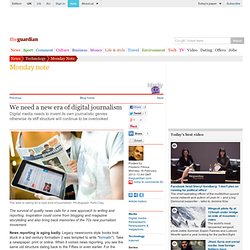 We need a new era of digital journalism | Technology
Les ventes du papier sombrent donc presque inexorablement pour les quotidiens papiers, on ne cesse de le constater (lire également les billets sur les résultats 2012 des quotidiens nationaux et régionaux).
Les ventes numériques de la presse commencent à compenser la chute du papier !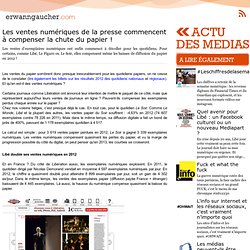 Financial Times editor announces digital-first strategy | Media
The Financial Times editor, Lionel Barber, has announced plans to move the title to a digital-first strategy in a move he described as a "big cultural shift" for the business daily, and cut 35 jobs. Barber said the FT will make a net headcount reduction of 25 – after hiring 10 journalists for digital roles – in an effort to save £1.6m this year as part of the strategy, outlined to staff in a memo on Monday, seen by MediaGuardian. He added that the FT needed to be "reshaped for the digital age". Barber said: "We need to ensure that we are serving a digital platform first, and a newspaper second. This is a big cultural shift for the FT that is only likely to be achieved with further structural change."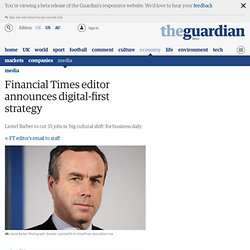 Priorité au numérique pour le "Financial Times"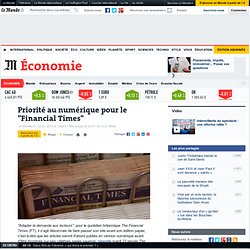 "Adapter la demande aux lecteurs", pour le quotidien britannique The Financial Times (FT), il s'agit désormais de faire passer son site avant son édition papier, c'est-à-dire que les articles seront d'abord publiés en version numérique avant d'être imprimés sur ses célèbres pages saumon, rapporte mardi 22 janvier The Guardian.
Avec «Gonzaï», la contre-culture fait souscrire
Le kiosque numérique ePresse monte en puissance
« Libération » voit son avenir en numérique - LesEchos.fr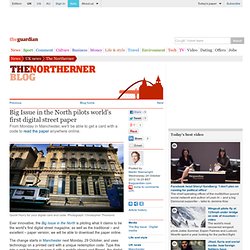 Ever innovative, the Big Issue in the North is piloting what it claims to be the world's first digital street magazine; as well as the traditional – and excellent – paper version, we will be able to download the paper online. The change starts in Manchester next Monday, 29 October, and uses technology on a printed card with a unique redemption code. Type this into a web browser or scan it with a mobile phone and Bingo!
Big Issue in the North pilots world's first digital street paper | UK news
The Big Issue, the magazine sold in the streets of Britain (and elsewhere) by homeless people, is going digital. From next Monday (29 October), in Manchester initially and then across other northern cities, people will be able to read The Big Issue on their screens. They will be able to buy an access card from vendors selling the traditional hard-copy version, as the video above explains. The card, which costs £2 - the same as the magazine - features a scratch-off panel to reveal a unique code.
The Big Issue magazine goes digital | Media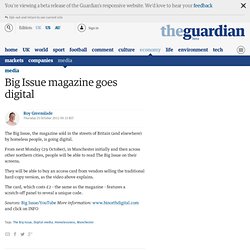 The Irish Times is changing its size and its appearance from tomorrow. It will remain a broadsheet, but it will be narrower than before. And the design is being revamped to take account of the new format. The publishers recruited Palmer Watson to redesign the paper. In a message to readers, the Irish Times's editor, Kevin O'Sullivan, writes: "The smarter look in print will be complemented by more extensive, original journalism… "A smarter Irish Times – in look and content – will continue to produce quality journalism.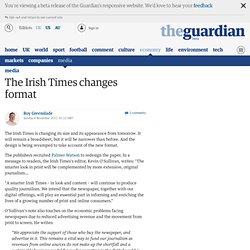 The Irish Times changes format | Media
A Turn of the Page for Newsweek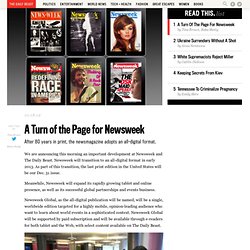 Richard Ben Cramer explores the abduction of Olympic athlete Kari Swenson and the indefatigable sheriff who hunted her killer. Richard Ben Cramer died one year ago this week and he is still sorely missed. His career began at the Baltimore Sun during the Watergate Era, blossomed at the Philadelphia Inquirer, where he won a Pulitzer for his reportage in the Middle East, and broadened in the 1980s when he conquered the long magazine profile with his enduring Esquire piece on Ted Williams.
TABLETTES. Les magazines US s'allient pour créer le Spotify des magazines
Online newspapers: News of the world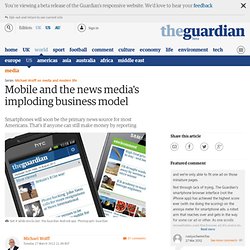 Get it while stocks last: the Guardian Android app. Photograph: Guardian Pew research has a new survey showing that tablets and smart phones are now 27% of Americans' primary news source.
Mobile and the news media's imploding business model | Michael Wolff | Comment is free
REVERSE PUBLISHING. Rue89 stoppe son édition papier
The Economist : "ce plaisir rituel de la lecture"
Spanish newspaper Público to stop printing | Media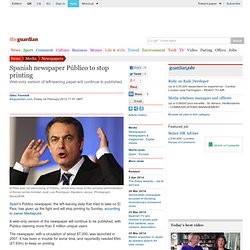 El País was not welcoming of Público, which was close to the socialist administration of former prime minister José Luis Rodríguez Zapatero, above. Photograph: Morell/EPA Spain's Público newspaper, the left-leaning daily that tried to take on El País, has given up the fight and will stop printing by Sunday, according to owner Mediapubli. A web-only version of the newspaper will continue to be published, with Público claiming more than 5 million unique users. The newspaper, with a circulation of about 87,000, was launched in 2007.
Gannett, the largest US newspaper publisher, is providing its editorial staff with iPhones, iPads and netbooks. The company has told employees that it is buying thousands of devices. In the memo from Gannett's newspaper chief, Bob Dickey, he says that readers' "speedy adoption of new technology for news consumption creates new opportunities for us to uniquely serve them. "To do so, we must ensure our journalists are equipped and trained on the tools to work in new ways." So "this week" Gannett has made a huge investment in news-gathering tools.
Gannett buys thousands of iPhones and iPads for its journalists | Media
At the beginning of this month, Clay Shirky offered some thoughts on how we journalists might like to think about our digital future. His essay (it seems trite to describe it as a mere posting), Institutions, confidence, and the news crisis, is short but, as ever, thoughtful. He begins by explaining the nature of institutions. Their value lies in stability. Their problem lies in their lack of genuine adaptability.
Here is the news - newspaper organisations defy the digital revolution | Media
If you choose your own news, you'll be less well read | Media | The Observer
Last year it was paywalls, the free-versus-subscription argument that gripped newspapers worried about survival. But see how the moving finger flicks on. Welcome to the 2012 version of this debate, otherwise known by the unlovely name of "versioning". The idea of paywalls, you'll recall, is that newspapers set some sort of tariff for reading their sites.
The Leveson inquiry has put the press under the microscope. Photograph: Matt Cetti-Roberts/LNP / Rex Fea Press How could next year beat this one?
Media predictions for 2012: press and digital | Media
Tablet journalism is the future - but what are we doing about it? | Media
Here are some words of wisdom from John Meehan, former editor of the Hull Daily Mail, in an InPublishing article, Sustaining community journalism in the regions. "The industry cannot be focused predominantly on print. The platform is not important - the content is... Regional media businesses have spent years agonising over 'the internet'.
The Sun to launch new mobile and tablet apps | Media
PRESSE ECRITE. Le Wall Street Journal devient (aussi) une télévision
INFO PAYANTE. La tablette n'est pas le produit miracle
Apple Newsstand: can it crack the news market? | Technology
New York Times digital subscribers up 40,000 | Media
La presse tactile tâtonne encore
BusinessWeek sort son appli iPad sur abonnement uniquement
The Guardian iPad edition goes live | Help
The Times hails 10% rise in digital subscribers | Media