Presse et nouveaux supports
The web is calling for a new kind of journalism. Photograph: Felix Clay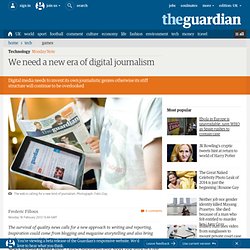 We need a new era of digital journalism | Technology
Les ventes du papier sombrent donc presque inexorablement pour les quotidiens papiers, on ne cesse de le constater ( lire également les billets sur les résultats 2012 des quotidiens nationaux et régionaux ).
Les ventes numériques de la presse commencent à compenser la chute du papier !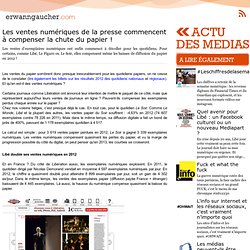 Financial Times editor announces digital-first strategy | Media
Lionel Barber says job cuts will save £1.6m this year.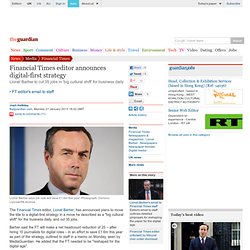 Priorité au numérique pour le "Financial Times"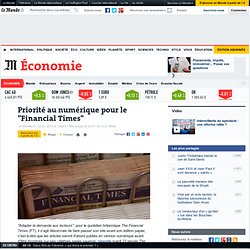 "Adapter la demande aux lecteurs" , pour le quotidien britannique The Financial Times (FT), il s'agit désormais de faire passer son site avant son édition papier, c'est-à-dire que les articles seront d'abord publiés en version numérique avant d'être imprimés sur ses célèbres pages saumon, rapporte mardi 22 janvier The Guardian .
Avec «Gonzaï», la contre-culture fait souscrire
Le kiosque numérique ePresse monte en puissance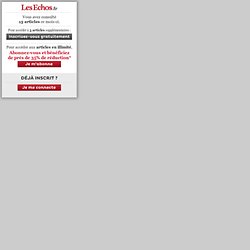 Grands changements en vue au sein du quotidien « Libération ». Il y a quelques jours, le co-président du directoire Nicolas Demorand a présenté successivement au comité d'entreprise, puis au conseil de surveillance, les grandes lignes de ce qu'il pense être l'avenir du quotidien. Alors que le journal s'apprête à fêter ses quarante ans en 2013, l'objectif prioritaire est d'accélérer sur le numérique.
« Libération » voit son avenir en numérique - LesEchos.fr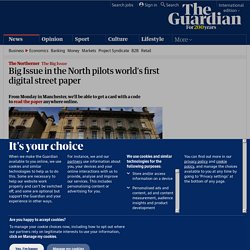 Quick! Hurry for your digital card and code.
Big Issue in the North pilots world's first digital street paper | UK news
The Big Issue , the magazine sold in the streets of Britain (and elsewhere) by homeless people, is going digital.
The Big Issue magazine goes digital | Media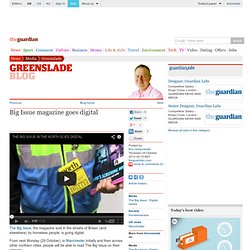 The Irish Times is changing its size and its appearance from tomorrow. It will remain a broadsheet, but it will be narrower than before.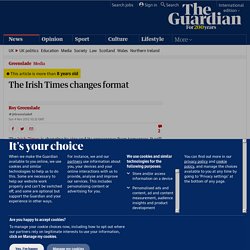 The Irish Times changes format | Media
A Turn of the Page for Newsweek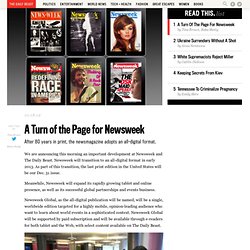 We are announcing this morning an important development at Newsweek and The Daily Beast. Newsweek will transition to an all-digital format in early 2013. As part of this transition, the last print edition in the United States will be our Dec. 31 issue.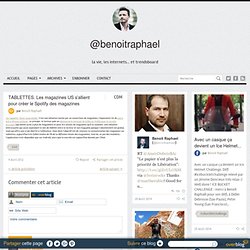 Publié le 04/04/2012 par Benoit Raphaël
TABLETTES. Les magazines US s'allient pour créer le Spotify des magazines
Online newspapers: News of the world
IN JANUARY the New York Times lost its top spot in comScore's ranking of the world's biggest newspaper websites to Britain's Daily Mail .
Get it while stocks last: the Guardian Android app.
Mobile and the news media's imploding business model | Michael Wolff | Comment is free
REVERSE PUBLISHING. Rue89 stoppe son édition papier
Publié le 13/03/2012 par Benoit Raphaël
The Economist : "ce plaisir rituel de la lecture"
Spanish newspaper Público to stop printing | Media
El País was not welcoming of Público, which was close to the socialist administration of former prime minister José Luis Rodríguez Zapatero, above. Photograph: Morell/EPA Spain 's Público newspaper, the left-leaning daily that tried to take on El País, has given up the fight and will stop printing by Sunday, according to owner Mediapubli .
Gannett , the largest US newspaper publisher, is providing its editorial staff with iPhones, iPads and netbooks . The company has told employees that it is buying thousands of devices. In the memo from Gannett's newspaper chief, Bob Dickey, he says that readers' "speedy adoption of new technology for news consumption creates new opportunities for us to uniquely serve them.
Gannett buys thousands of iPhones and iPads for its journalists | Media
Here is the news - newspaper organisations defy the digital revolution | Media
If you choose your own news, you'll be less well read | Media | The Observer
Media predictions for 2012: press and digital | Media
Tablet journalism is the future - but what are we doing about it? | Media
The Sun to launch new mobile and tablet apps | Media
PRESSE ECRITE. Le Wall Street Journal devient (aussi) une télévision
INFO PAYANTE. La tablette n'est pas le produit miracle
Apple Newsstand: can it crack the news market? | Technology
New York Times digital subscribers up 40,000 | Media
La presse tactile tâtonne encore
BusinessWeek sort son appli iPad sur abonnement uniquement
The Guardian iPad edition goes live | Help
The Times hails 10% rise in digital subscribers | Media