Funny
The funniest food ever
This Is What Crazy Looks Like Via Text Messaging... by vaughan-1 on SoundCloud - Create, record and share your sounds for free
This is war!
TiCeption
Would You Rather?
7uzpH.png (577×403)
My friend's "Should I take a nap?" flowchart
Oh the things you find on the internets..
T-rex trying things
so much win
So that's how it's made..
Every Spring......Every. Spring
Trolling random number that texted me looking for "Brit"
So My Friend Got These Coupons From His Girlfriend.. I'm So Jealous.. | Lulz Truck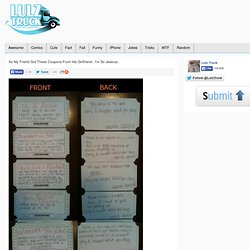 So My Friend Got These Coupons From His Girlfriend.. I'm So Jealous.. Share4.2K Tweet124 You might like: What's Up… Wait WTF?
Trolling Contest - most WTF Contest!! - TheFunnyPlanet.com - Funny Pictures, Epic Fails, Funny Planet, iPhone Autocorrects, Awkward Texts, LOL Photos, TheFunnyPlanet, Hilarious, Animal LOLs, Troll Comics, Gags, Cartoon
Life to do list | Funny humor
17 WTF Wifi Names!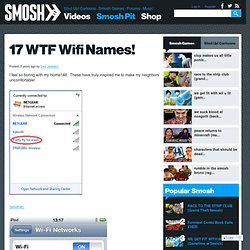 The Game of SMOSH We've turned all of SMOSH into a game. The Game of SMOSH. The more you play, the more you level up. The more you level up, the more cool rewards you win.
How an iMac is born
Where's Jason?
Mershed Perderders
iNqD5.jpg (368×312)
The Freedom Square of Internet
Helpful Tyler Durden
Top 50 Funny Pictures of the Day - March 31th 2012
Mentally Abusive Sign Is Unnecessarily Mean [Pic
82433813
German Advertising | I Can Has Internets
Tim Minchin's "Three Minute Song" - Ruth Jones' Easter Treat, preview - BBC Two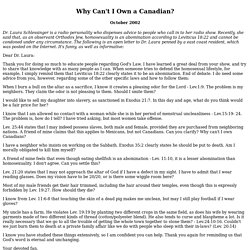 October 2002 Dr. Laura Schlessinger is a radio personality who dispenses advice to people who call in to her radio show. Recently, she said that, as an observant Orthodox Jew, homosexuality is an abomination according to Leviticus 18:22 and cannot be condoned under any circumstance. The following is an open letter to Dr. Laura penned by a east coast resident, which was posted on the Internet.
Why Cant I Own a Canadian?
104849497544341792_tFthX5Pr_c
@purpperil: That's a shame - I'll have to find something else to do #funnysigns #Wtf! Wat kinda #disability is this? O_o #Funnysigns #ctfu Don't know if it's my wallet or ass I need to worry about?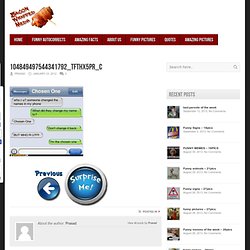 A Very Honest First Date - Pizza Comedy - StumbleUpon
Mens Rules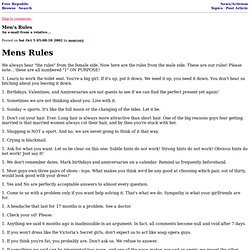 Skip to comments. Men's Rules An e-mail from a relative... Posted on Sat 05 Oct 2002 05:08:10 AM CEST by sourcery We always hear "the rules" from the female side.
Old Humor
Фото и рисунки, арт и креативная реклама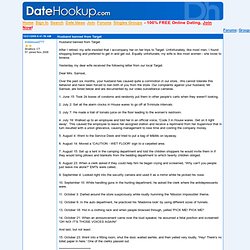 Husband banned from Target - StumbleUpon
Husband banned from Target After I retired, my wife insisted that I accompany her on her trips to Target. Unfortunately, like most men, I found shopping boring and preferred to get in and get out. Equally unfortunate, my wife is like most women - she loves to browse. Yesterday my dear wife received the following letter from our local Target. Dear Mrs.