BEST BLOGS
The one that was run over by Ping Zhu's deerA Legendary Poster from Brooklyn based artist Ping Zhu.Here's what she says about it:"The idea behind the image are these deer travelling/running into a new dimension, and with that they are revealing a new self, as the old version gradually becomes less."Learn more about Ping Zhu at http://www.pingszoo.com Here's your chance to support a good cause AND own one of my original paintings. It measures (roughly) 22" x 30", starting bid is only €150! There are lots of other amazing posters as well, so GO AND LOOK AT THEM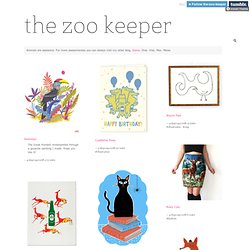 The Zoo Keeper
ULULEZ...POUR LES MARTINES Tome 2...
On Friday evening the blackbirds were singing. On Saturday it was sunny. On Sunday it snowed.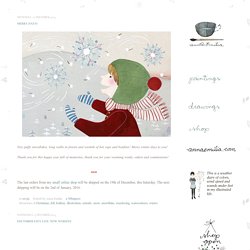 Anna Emilia
Habit of Art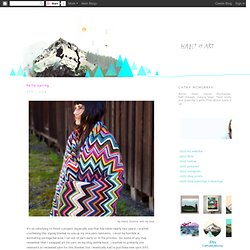 It's so satisfying to finish a project, especially one that has taken nearly two years! I started crocheting this zigzag blanket to use up my nice yarn remnants. I must be horrible at estimating yardage because I ran out of yarn early on in the process. So, some of you may remember that I swapped art for yarn on my blog awhile back. I wanted to primarily use remnants or reclaimed yarn for this blanket, but I eventually had to purchase new yarn ($$!). Although this project took much longer than expected, I am thrilled with how it turned out.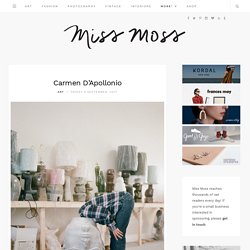 Custos Naturae is the slogan of the Kruger National Park, it means Guardian of Nature. i have been very familiar with it since i was a kid, as we were lucky enough to visit the park in my childhood days. we've just returned from our recent trip, and i took too many photos as per usual. i decided not to spend hours editing every single last one – so here are a selection of my favourites, highlighting some of the best things we saw. every trip is different, last year we saw hyena (and were lucky enough to see a leopard!) this time round we saw neither, but we did see a LOT of rhino – 16 to be exact – up close and personal, which was such a privilege considering the dire rhino poaching situation in the park and across Africa. we also spent a fair bit of one morning in the company of some beautiful male lions, who were so close to our car it made me nervous. when a lion looks straight into your eyes… you can actually feel yourself moving a few notches down the food chain.
kavka
zeza@flor blog!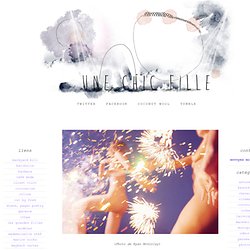 (Puisqu'ils chantent à Coachella en avril, on a des chances de réentendre parler d'Outkast. Et ça me ravit fort. Ci-dessus ma sonnerie de téléphone pendant des années) J'aborde aujourd'hui un thème, et ça va courir sur un paquet de billets, qui me tient vraiment à coeur. Un sujet dont je veux parler depuis très très longtemps mais que je ne réussissais jamais à aborder.
The Yvestown Blog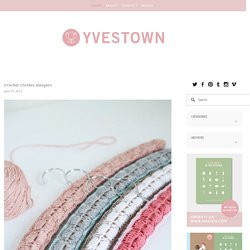 On December 6 I celebrate my birthdays. I was born on the same day as St. Nicolas and he and I have an ongoing battle that I still can not win. People in The Netherlands and Belgium celebrate St.
all the luck in the world-blog |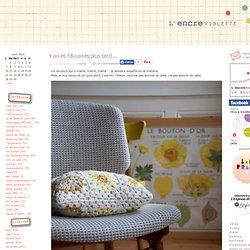 "Père Castor, raconte nous une histoire…!" Cette semaine, il y aura un petit concours pour gagner des fac-similés édités par l'association des amis du Père Castor, mais avant ça, il faut que je vous parle d'un projet mené par l'association. "L'association des Amis du Père Castor a été fondée en 1995, au départ à la retraite de François Faucher, fils de Paul Faucher, créateur des albums du Père Castor. La collection Père Castor, fondée en 1931, était la première collection française qui souhaitait mettre à la portée de chaque enfant des livres de qualité, adaptés à leurs besoins.Pendant près de 80 ans, Paul et François Faucher se sont consacrés à cet objectif et l'association a pour but de préserver cet héritage et de faire perdurer cette mission éducative. (…)
Yay! My blog has a new home. Please update your bookmark to bforbonnie.com. You jump on to an opportunity (immediately) when the World Barista Champion said he'd teach you how to brew coffee.
b for bonnie
Hip Hip Hooray!
Me revoilà avec une nouvelle recette ( ca faisait bien trop longtemps !). ( Au passage je vous re-souhaite à tous une belle année 2014 !!) Quand j'étais petite mon père me faisait un goûter que j'adorais, c'était un goûter super drôle et créatif !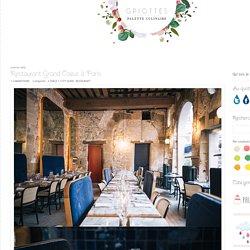 Poiz à la ligne
Carine Brancowitz
Vous n'avez pas pu passer à côté : Ladurée a lancé une ligne de maquillage en exclusivité chez Sephora. J'ai bien aimé le packaging, mais je n'avais pas testé à proprement parlé les produits. A part en swatch, mais ce n'est pas vraiment assez. Alors là, je m'y colle !