Frameworks
Twitter Bootstrap Tutorial. Twitter Bootstrap Tutorial has average rating 7 out of 10.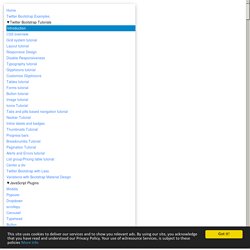 Total 2151 users rated. <<PreviousNext>> Themes for Twitter Bootstrap - WrapBootstrap. Bootstrap Illustrator Template | www.aaronkwhite.com. With Bootstrap 3.0 soon to be released I have moved the 2.x version of the Bootstrap Illustrator Template over to Layer Vault.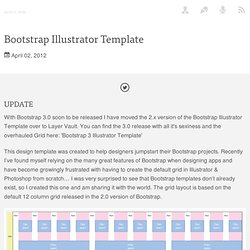 You can find the 3.0 release with all it's sexiness and the overhauled Grid here: 'Bootstrap 3 Illustrator Template' This design template was created to help designers jumpstart their Bootstrap projects. Recently I've found myself relying on the many great features of Bootstrap when designing apps and have become growingly frustrated with having to create the default grid in Illustrator & Photoshop from scratch… I was very surprised to see that Bootstrap templates don't already exist, so I created this one and am sharing it with the world. The grid layout is based on the default 12 column grid released in the 2.0 version of Bootstrap. This template is free to use for any projects (personal & commercial), all I ask is you don't take credit for my work or the guys who created Bootstrap.
StyleBootstrap.info. Bootswatch: Free themes for Twitter Bootstrap. Stepping Out With Bootstrap from Twitter. Twitter introduced Bootstrap recently, a library of CSS styles aimed at web app developers in need of some design help.
The toolkit includes everything from grid layouts down to buttons and modals, and works on pretty much all modern browsers, all the way back to IE7. Let's see what we can do with it... Bootstrap is also enhanced through the Less preprocessor, which adds some additional reasons to use Bootstrap, although we'll exclude the Less functionality from the scope of this tutorial, to keep thing simple. Bootstrap includes a bit of documentation, but nowhere does it really explain how to use the toolkit (instead, there's just one big demo page for you to investigate yourself). So, in this article, we're going to strip down Bootstrap's example page and analyze how to replicate the elements that Bootstrap covers.
---