Apps
mobileLutions
Since launching the SAFECELL applications our users have logged over 54,266 trips driving over 856,789 total miles. Compiling over 16,810,988 way-points tracked by SAFECELLapp. They have driven over 1.2 million miles using the SAFECELLapp while NOT using their cell phones.SafeCell Enterprise® powered by AT&T has launched bringing an Enterprise grade Driving While Distracted application to the AVL/Fleet Management Solutions. Click here for more information. SAFECELLapp Technology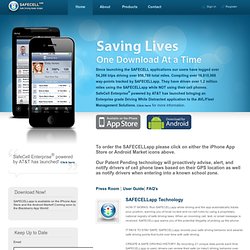 SafeCell
Cellcontrol | Technology to Stop Distracted Driving | Home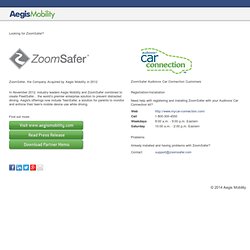 ZoomSafer Prevents Distracted Driving
Looking for ZoomSafer? ZoomSafer, the Company Acquired by Aegis Mobility in 2012 In November 2012, industry leaders Aegis Mobility and ZoomSafer combined to create FleetSafer... the world's premier enterprise solution to prevent distracted driving. Aegis's offerings now include TeenSafer, a solution for parents to monitor and enforce their teen's mobile device use while driving. Find out more: ZoomSafer Audiovox Car Connection Customers
Turn Off the Cell Phone While Driving - Stop Cell Phone Use While Driving - PhonEnforcer Prevents the Use of Cell Phone While Driving
Here are results from a Pew Internet & American Life Project, Spring Change Assessment Survey conducted from April 29 to May 30, 2010 on 2,252 adults ages 18 and older: A highly regarded study from the Virginia Tech Transportation Institute included a number of real-world driving scenarios over six million miles of driving produced clear statistics that are hard to ignore: For cars or light vehicles, dialing on a cell phone made the risk of crash or near-crash event 2.8 times as high as non-distracted driving.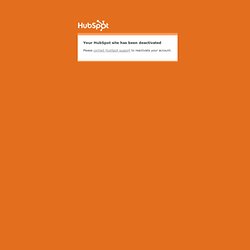 Statistics
New app disables texts, e-mails while driving | wfaa.com | Consumer
DALLAS — Maybe it's the result of a mobile workforce, but it seems society just can't put down cell phones. "You're in your car and when that phone beeps, you want to know what just came across the phone," said Larry Eppard of MobileLutions. "Anybody who's got a smartphone who says they haven't done that is probably lying." Texting and driving causes 200,000 accidents a year, according to the National Safety Council. But MobileLutions, a North Texas company, created an app for that. It's called MobiLoc.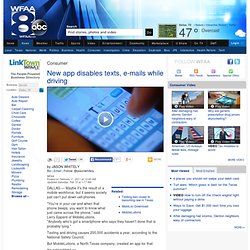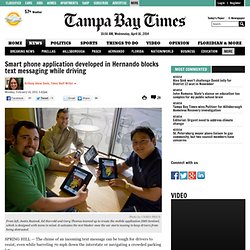 SPRING HILL — The chime of an incoming text message can be tough for drivers to resist, even while barreling 70 mph down the interstate or navigating a crowded parking lot. So when a texting driver drifted into Gary Thomas' lane in Hernando County last spring and nearly ran him off the road, it became clear to him that distracted driving had to stop. "I was complaining and complaining, and I finally decided to do something about it," said Thomas, of Spring Hill, a home health physical therapist. The idea motivated him to team up with two techies, Ed Harrold of Istachatta and Justin Ruzinok of St. Petersburg, to help people kick the texting-while-driving habit.
Smart phone application developed in Hernando blocks text messaging while driving
iPad Apps, iPhone Apps, Deals and Discovery at App Shopper - Popular Recent Changes for iOS
iWikiPhone
i use this iphone software: New Releases
New Year – New Apps! It's a new year and, as always, an exciting one for all of us here at 148Apps. Take a look at what we've reviewed this week, and find even more in our Reviews Archive.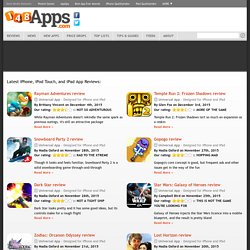 iPhone Applications : appRater.com - The best iPhone apps on the web! : Rankings - All Apps
Home How It Works Developers Submit App Login About Us Contact Us Welcome to appRater.com - Where only the best iPhone web applications are found! Since the arrival of iPhone, literally thousands of applications have been developed. Due to the overwhelming popularity of the iPhone and the need for applications, this site was created to help you find the best applications available. Now it's even easier to get the top list of apps straight from your iPhone!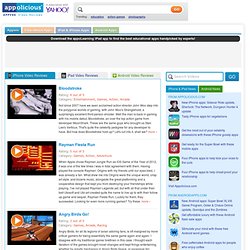 Angry Birds Go! Rating: 3 out of 5 Category: Games, Arcade, Racing Angry Birds, for all its legions of avian adoring fans, is oft maligned by more critical gamers for being essentially the same game again and again. I disagree with my traditional gamer brethren in this case. I thought each iteration of the games brought novel changes and kept things entertaining, whether by gravity mechanics in Angry Birds Space, or excessive fan service and awesomeness in the Angry Birds Star Wars games.
iPhone App Review Marathon Liveblog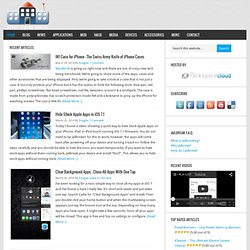 Should Our Family Share an Account in the App Store? July 31, 2013 · Leave a Comment · Filed Under: App Store, iTunes, videos Lots of people wonder if they should share an account in the App Store with people in their family. I highly recommend it and in this video I explain how it works and why you should. If you have anymore questions that I didn't cover in the video just leave a comment below. [Read More...]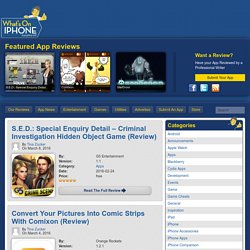 NAB Show 2014: Where content comes to life NAB Show, the world's largest electronic media show covering filmed entertainment and the development, management and delivery of content across all mediums, will be held from April 5-10, 2014 in Las Vegas. What's On iPhone is the official Media Partner for the conference. With more than 93,000 Attendees from 156 countries and 1,550+ Exhibitors, NAB Show is the […]
whatsoniphone.com | Everything iPhone OS
Apps that help you shop are a common commodity on the App Store these days, most of them being at their core simply a list with prices and some bells and whistles to try and set them apart from the competition. Punch in what you want to buy, maybe some details like price and location, then check it off as you wander through the store. Nothing a pencil and piece of paper can't do, just maybe a bit easier to repeat the same list for next week's shopping trip. Enter Swift Shopper, a new app from developer EZ Commerce that uses the unique capabilities of a handheld computer to try and truly make your shopping easier.
11 best iPhone app rating and review sites
Even though the iTunes App store has a review and ratings system, it's still best to get several opinions before spending money on an app you might never use. It would be nice if you could download trial versions of apps from the iTunes store, but it does not look like this will happen anytime soon. So if you want to find out which iPhone apps are cool, which iPhone apps are popular and which iPhone apps to stay away from, then check out these iPhone app review sites! FreshApps