Outils pour entrepreneurs
The Chartered Institute of Marketing. Business Owner's Toolkit. Small Business Ideas and Resources for Entrepreneurs. Business Plan Center with a Library of Real Business Plans. Auto-entrepreneurs - Site Jimdo de monexcel! Etudes de Marché en Ligne - Questionnaires Enquêtes et Sondages. 60 sites pour trouver des clients. Comment faire pour trouver des clients ?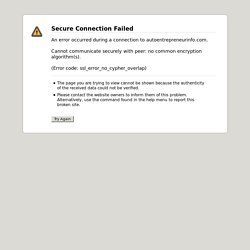 C'est une vraie problématique qui prend du temps quand on est auto entrepreneur ou indépendants ! Heureusement, il existe des sites web spécialisés, des annuaires professionnels et des places de marchés pour proposer ses services et trouver des missions et des clients ! Je vous propose une liste monumentale de 60 plateformes et sites internet spécialisés ou plus génériques et qui vous permettront de trouver des clients, quelle que soit votre activité en indépendant ou sous le régime auto-entrepreneur ! Quelques conseils à suivre quand vous décrivez vos prestations et votre entreprise sur ce type d'annuaires pro ou de sites experts : SME Marketing Expert. La boite à outils Marketing. BeSmart.fr | Le guide des nouvelles technologies. Outils du Manager.
---