Divers
Get flash to fully experience Pearltrees
an extensive cast of text to speech talents! Experience and enjoy an exciting and wide range of voices, very different from each other: voices that interpret and read content with meaning and emotion, voices with accents, voices of celebrities,... Read more Acapela Text to Speech Demo Report a pronunciation bug Powered by Acapela Voice as a Service .
croire à toujours à des paroles dois je savoir ne suis je pas folle soufrir encore je ne le veux pas tout ce que je souhaite c'est m'élever avec toi crier tous deux contre ce monde qui nous jette compagnons de débauche et souhait de vengeance et se calmer et oublier juste se rapeler que l'on s'aime comme jamais et vivre et grandir ensemble dans le pire et grandir et vieillir pour mourir béquille et silence ecrire et sentence j'irais au bout de tes yeux et tout ce que tu vois c'est ça et tout ce que tu sais c'est moi mourir ensemble une derniere fois... ...shibi...
1967 Honda S90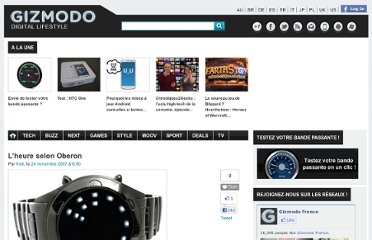 Grâce à des entreprises comme Tokyo Flash (et Nooka , entre autres), je m'intéresse à nouveau aux montres. L'avènement des téléphones portables voici quelques années m'avait amené à considérer les montres comme inutiles et des objets du passé.
Que dire de plus ?