Security System
At Pelco by Schneider Electric, we are committed to the development and manufacture of open IP video security systems coupled with an unparalleled level of customer service and support. From an expanded selection of IP security cameras and video management systems to full HD displays, traditional surveillance technologies, accessories and more, Pelco is your trusted video security partner. The Pelco Presenter IP Camera Sales Tool is your one-stop shop for demo videos, specification sheets, product and integration overviews, and more. Interactive IP Camera Brochure >
PELCO by Schneider Electric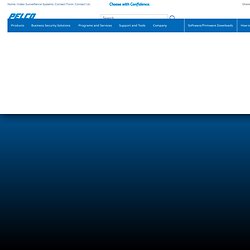 Introduction - Security Solutions | Irisys
Thermal imaging has a huge number of applications for the security sector. Irisys thermal imaging sensors are used to provide data intelligence for: Marine: Navigation at night or in fog and man overboard are just some of the applications of thermal imaging for the maritime industryPerimeters: Irisys thermal imaging cameras can detect body heat up to 4km away, regardless of lighting conditionsBorders: thermal imagers can accurately detect people passing through a restricted areaDetection of 'tailgating' at secure access pointsCounting the number of people leaving a building in an emergency evacuation situation Tailgating enables the abuse of many access control systems, preventing them from working effectively as a result of people following authorised cardholders into restricted areas. Thermal imaging detects people by their body heat, so thermal imaging technology can provide a significant increase in access control security.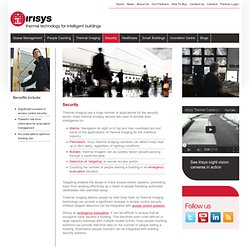 TKH Group || Building Solutions || Security Systems - home
Electronic security solutions - Building Technologies - Siemens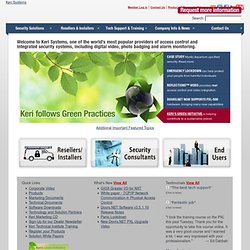 Keri Systems - Access Control Systems, Integrated Security
Keri Systems Member Log in | Contact Us | Products | Corporate Video Welcome to Keri Systems, one of the world's most popular providers of access control and integrated security systems, including digital video, photo badging and alarm monitoring. EMERGENCY LOCKDOWN can help protect your people from harmful individuals ASSA ABLOY Keri now provides support for a number of Assa Abloy brands. Read more REFLECTIONS™ VIDEO provides real access control and video integration Doors.NET now supports PXL-500 hardware, bringing many new capabilities KERI'S GREEN INITIATIVE is helping contribute to a sustainable planet.
Building Solutions
The world's view on security with regard to perimeter and building access control has changed dramatically since the tragic events of September 11. Realizing the massive damage a single act of terrorism could cause, government organizations and global corporations acknowledged an urgent need to strengthen building security systems. Despite the growing need, today's building security market is not integrated with a large number of small technology companies that each provides a limited number of security components or sub-systems. To navigate this fragmented industry structure, organizations often have to work with multiple vendors and piece-meal together their mission-critical security systems – a suboptimal approach to security needs.
Building Access Control | Building Security Systems by Seenex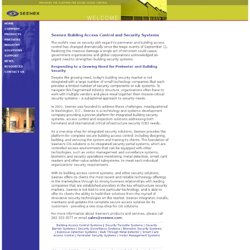 What Type Of Alarm System Do I Need? If you have time, please visit the alarm system terms and definitions page before continuing. I live in a high rise condo, which I own.Condo owners need to use an "all in one" wireless alarm system. The keypad, panel, and wireless receiver come all in one unit, and the only hard wiring required is from the phone line to the unit itself. All other devices such as door contacts or motion sensors are wireless, and are easy to install and/or move.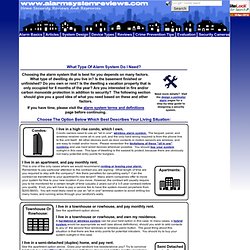 Design Your Own Alarm System
Video can be added to any service level for an additional $10 per month. So Much More Than Just an Alarm System LiveWatch Alarm Monitoring is the reliable service your home needs for 24/7 protection you can count on. Our security systems are wireless and use cellular technology to maintain a continuous and dedicated link to the central monitoring station, so you are protected even if phone or internet service is down. It will also use the security system's backup battery to operate reliably for up to 24 hours in a power outage. In addition to reliable protection, the easy-to-use interface allows you to arm or disarm your system, receive real-time alerts & notifications via email and text messaging and much more.
Alarm.com Home Monitoring from LiveWatch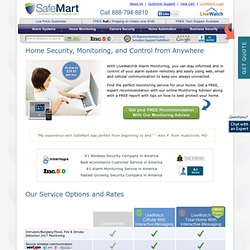 Are you prepared for what happens in the event of a burglary? Nobody likes to talk about it, but a home is burglarized every 15 seconds, and there are more than 2 million burglaries every year in the U.S. alone. Do you have the equipment necessary to protect yourself, your family and your property when such an intrusion occurs? The financial toll can be devastating, but the emotional toll can be far worse. Here, you'll find everything you need to protect what matters most. You can put a price on stolen goods, but you can't put a price on the peace of mind that comes from superior home security.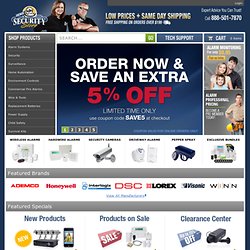 Axis Communications - Leader in network cameras and other IP net