Security System
PELCO by Schneider Electric. Introduction - Security Solutions | Irisys. Thermal imaging has a huge number of applications for the security sector.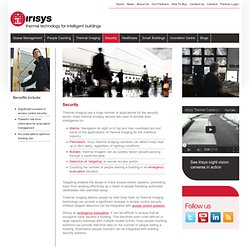 Irisys thermal imaging sensors are used to provide data intelligence for: Marine: Navigation at night or in fog and man overboard are just some of the applications of thermal imaging for the maritime industryPerimeters: Irisys thermal imaging cameras can detect body heat up to 4km away, regardless of lighting conditionsBorders: thermal imagers can accurately detect people passing through a restricted areaDetection of 'tailgating' at secure access pointsCounting the number of people leaving a building in an emergency evacuation situation Tailgating enables the abuse of many access control systems, preventing them from working effectively as a result of people following authorised cardholders into restricted areas.
Thermal imaging detects people by their body heat, so thermal imaging technology can provide a significant increase in access control security. TKH Group || Building Solutions || Security Systems - home. Electronic security solutions - Building Technologies - Siemens. Keri Systems - Access Control Systems, Integrated Security. Building Solutions. Building Access Control | Building Security Systems by Seenex. Design Your Own Alarm System. What Type Of Alarm System Do I Need?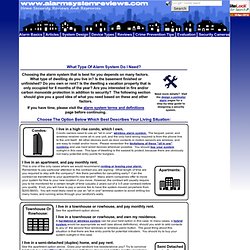 If you have time, please visit the alarm system terms and definitions page before continuing. I live in a high rise condo, which I own.Condo owners need to use an "all in one" wireless alarm system. The keypad, panel, and wireless receiver come all in one unit, and the only hard wiring required is from the phone line to the unit itself. All other devices such as door contacts or motion sensors are wireless, and are easy to install and/or move. Alarm.com Home Monitoring from LiveWatch. Video can be added to any service level for an additional $10 per month.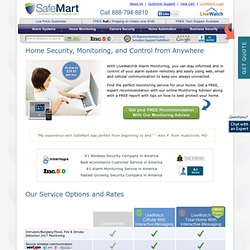 So Much More Than Just an Alarm System LiveWatch Alarm Monitoring is the reliable service your home needs for 24/7 protection you can count on. Our security systems are wireless and use cellular technology to maintain a continuous and dedicated link to the central monitoring station, so you are protected even if phone or internet service is down. It will also use the security system's backup battery to operate reliably for up to 24 hours in a power outage. In addition to reliable protection, the easy-to-use interface allows you to arm or disarm your system, receive real-time alerts & notifications via email and text messaging and much more. Home Security Store | Home Security Camera | Wireless Security S. Axis Communications - Leader in network cameras and other IP net.
---