Pearltree Pluschko
PTV Professional TeleVision OnlineShop
Videoprojekt Uni Salzburg - Dropbox
Home - Universität Salzburg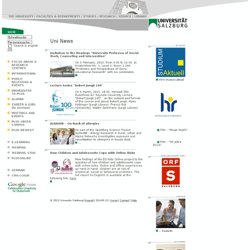 Building on the successful model of the "Center for Geoinformatics" and with the involvement of the Geographic Information Science Institute of the Austrian Academy of Sciences, the University of Salzburg as of 01 August, 2012, created the "Interfaculty Department of Geoinformatics - Z_GIS" - a signal that at the interface of Engineering, Natural Science and Social Science, this discipline places a new and important impetus.
PLUSonline
Blackboard Learn
Blackboard VidHis
Blackboard AV MedGes
Blackboard PlugIn
KoWi Uni Salzburg
MedienLabor
PR Uni Salzburg
why Pearltrees?
how to use Pearltrees on the web?
how to use Pearltrees iPad app?