On-line education
hasBrains - скринкасты, видеоуроки, вопросы и ответы. Мы учим полезным скиллам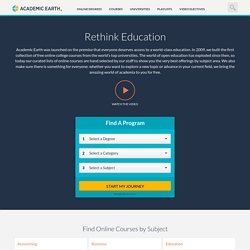 Academic Earth believes everyone deserves access to a world-class education, which is why we continue to offer a comprehensive collection of free online college courses from the world's top universities. And now, we take learning outside the classroom with our original series of thought-provoking videos, designed to spark your intellectual curiosity and start a conversation. Watch, learn, share, debate. After all, only through questioning the world around us, can we come to better understand it.
loading What Is Machine Learning? Machine learning is the science of getting computers to act without being explicitly programmed.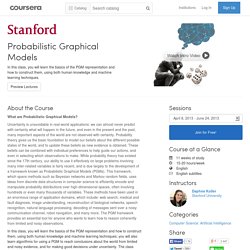 What are Probabilistic Graphical Models? Uncertainty is unavoidable in real-world applications: we can almost never predict with certainty what will happen in the future, and even in the present and the past, many important aspects of the world are not observed with certainty. Probability theory gives us the basic foundation to model our beliefs about the different possible states of the world, and to update these beliefs as new evidence is obtained. These beliefs can be combined with individual preferences to help guide our actions, and even in selecting which observations to make.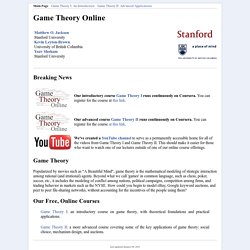 loading About the Course Popularized by movies such as "A Beautiful Mind", game theory is the mathematical modeling of strategic interaction among rational (and irrational) agents. Beyond what we call 'games' in common language, such as chess, poker, soccer, etc., it includes the modeling of conflict among nations, political campaigns, competition among firms, and trading behavior in markets such as the NYSE. How could you begin to model eBay, Google keyword auctions, and peer to peer file-sharing networks, without accounting for the incentives of the people using them?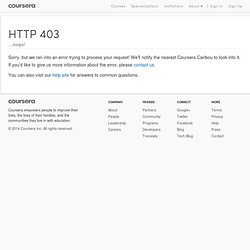 In this course, you will learn how to design technologies that bring people joy, rather than frustration. You'll learn several techniques for rapidly prototyping and evaluating multiple interface alternatives -- and why rapid prototyping and comparative evaluation are essential to excellent interaction design. You'll learn how to conduct fieldwork with people to help you get design ideas. How to make paper prototypes and low-fidelity mock-ups that are interactive -- and how to use these designs to get feedback from other stakeholders like your teammates, clients, and users.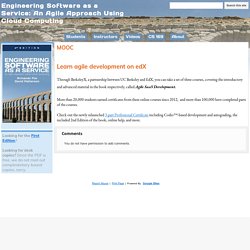 loading About The Course This course teaches fundamental processes of software engineering using the highly-productive Agile development method for Software as a Service (SaaS) using Ruby on Rails. This is not a "web programming" course: the emphasis is on learning the processes, tools and concepts, using SaaS as the vehicle. We chose SaaS and Rails because we believe the best tools for teaching these concepts are those in the Rails ecosystem.
Natural Language Processing - January 2012
About The Course This course covers a broad range of topics in natural language processing, including word and sentence tokenization, text classification and sentiment analysis, spelling correction, information extraction, parsing, meaning extraction, and question answering, We will also introduce the underlying theory from probability, statistics, and machine learning that are crucial for the field, and cover fundamental algorithms like n-gram language modeling, naive bayes and maxent classifiers, sequence models like Hidden Markov Models, probabilistic dependency and constituent parsing, and vector-space models of meaning. We are offering this course on Natural Language Processing free and online to students worldwide, continuing Stanford's exciting forays into large scale online instruction. Students have access to screencast lecture videos, are given quiz questions, assignments and exams, receive regular feedback on progress, and can participate in a discussion forum.
Machine learning is the science of getting computers to act without being explicitly programmed. In the past decade, machine learning has given us self-driving cars, practical speech recognition, effective web search, and a vastly improved understanding of the human genome. Machine learning is so pervasive today that you probably use it dozens of times a day without knowing it. Many researchers also think it is the best way to make progress towards human-level AI.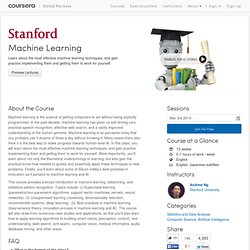 About The Course A bold experiment in distributed education, "Introduction to Databases" is being offered free and online to students worldwide, October 10 - December 12, 2011. Students have access to lecture videos, are given assignments and exams, receive regular feedback on progress, and participate in a discussion forum. Those who successfully complete the course will receive a statement of accomplishment.
Introduction to Databases
All of AI Class is now available through Udacity along with many other classes! This site (www.ai-class.com) will redirect to www.udacity.com starting in February 2013. Class has ended, but you can still log in here. Sign in I'm greatly enjoying the class and amazed by how much I was able to learn in one month. Signing up for this class was probably one of the best (if not the best) decisions I made this year!