SHTF
Get flash to fully experience Pearltrees
Question: Does this bag have a compartment for a hydration bladder? Answer: Yes, the 3 Day Backpack has a compartment for a hydration bladder. Question: Does this pack have small pockets for pens, knives, flashlight, etc?
Before we start, one word about orientation: on the left, there are links to the multiple pages in this series. This first page contains my selection of "essential knots"—those that I recommend for anyone to learn if they would like to acquire a "Swiss Army Knife" collection of knots for every purpose. If you'd like a list to orient yourself, you can always visit the Knots Index . The page called " optional knots " presents knots that I also count among the most useful, and the other pages contain other material (such as less common knots or alternate ways of tying common knots) for those who would like to dig deeper into the world of knots. I hope you enjoy your visit. If you do, I always appreciate it when someone shares the site, links to it or adds it to their bookmarks.
The Weekend Skills Course Come join us for a weekend skills intensive. Learn what it takes to survive with little more than a small pocket knife while staying on our private 20 acre training site (The Sand Canyon Village; fully wild, no hard structures). All meals and snacks are provided, sleeping bags are allowed. Sleep in a hut, harvest wild plants, cook over a fire after making one with sticks... Hiking is on trail and light to moderate.
"The adult Circle camp survival series is a wilderness skills methodology that guides you from a beginning level of knowledge, and transforms you into an experienced, advanced, outdoor adventurer in three weeks of training." ~ Mark Wienert Jr. First Circle Camp First Circle wilderness survival and bushcraft skills is an exclusive outdoor California training camp featuring, basic survival skills using primitive and modern technology, wilderness navigation and orientation, fundamentals of tracking and nature awareness, survival attitude, and provides outstanding outdoor adventure. Lifesong Wilderness Adventures offers the best hands-on, personalized attention while developing your physical and mental ability for wilderness survival and natural disasters…
Details Good readiness must include storage of high quality food that will build us up rather than tear us down. Much of the storable food available is full of bad fats, salt and sugar and even MSG, not to mention high levels of pesticides and nutrient poor refined foods. We grew tired of all other preparedness pails loaded with ingredients detrimental to your health. The Survive2Thrive 100% Organic Vegetarian Grab n' Go Food Supply is perfect for those people looking to enhance their stored foods with quality, nutritious, real food.
Warning : There are TEN videos on this page, and a few of them are "graphic" in nature. If you are studying prepping with children, review this page before showing them. An introduction to IFAKs , (Individual First Aid Kits), courtesy of quite a few friendly folks who posted their YouTube videos. I went through and selected a few of them for your own review.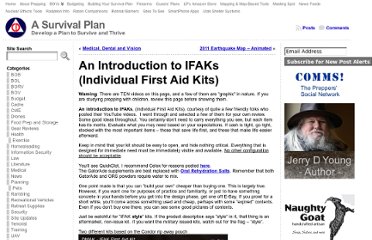 With the help of suggestions that have come in from our readers, we have compiled a list of the top food items and emergency supplies that you can buy at the grocery store. The list contains foods with a long shelf life, items that have multiple uses, and supplies that are great for bartering . Survival Food that adds flavor & comfort: These four foods can be stored for over 10 years and are a great way to add a little bit of flavor to your cooking. If stored properly they can probably last indefinitely.
Straight out of Red Dawn Kinda Shit