Immigration/citizenship
https://locator.ice.gov/odls/homePage.do
Action for DREAMers info
To be eligible for DACA, an individual must show the following: Age Under 31 years old as of June 15, 2012;At least 15 years old at time of filing, unless in immigration court proceedings, or has final removal order or voluntary departure; Came to the U.S. before turning 16; Continuous Residence Continuously resided in the U.S. since June 15, 2007 until the present time (An applicant who has brief, casual, and innocent absences from the U.S. may still be able to show that s/he "continuously resided" in the U.S.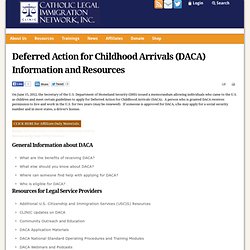 Consulado de México en Saint Paul
Detention Facilities Locator
U.S. Citizenship and Immigration Services (USCIS) is now accepting applications for the Fiscal Year (FY) 2014 Citizenship and Integration Grant Program, which will provide up to $10 million in funding for citizenship preparation programs in communities across the country. The Citizenship and Integration Grant Program is a competitive grant opportunity for public or non-profit organizations, which promotes immigrant civic integration and prepares permanent residents for citizenship.