Looks cool
Untitled Document
What children's skulls look like as they prepare to lose their baby teeth
HiddenColors.com
100 Pokemon Brought to Life through Creative Art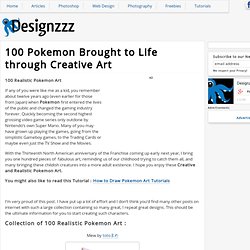 100 Realistic Pokemon Art If any of you were like me as a kid, you remember about twelve years ago (even earlier for those from Japan) when Pokemon first entered the lives of the public and changed the gaming industry forever. Quickly becoming the second highest grossing video game series only outdone by Nintendo's own Super Mario.
h
This Guy is Amazing
3D murals painted on the sides of buildings By Trompe Loeil (trick-of-the- eye) artist John Pugh Main Street, Los Gatos , California. Even the woman peering into the ruin is part of the mural.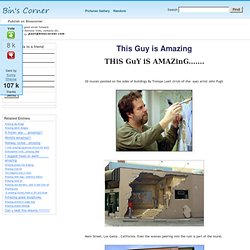 Body Art - Hand Animals | Optical Illusions
Lashea
Amazing.
TOKI WOKI. Scroll Clock
pixel animator
Koalas to the Max dot Com
アサメグラフ ポケモン百五十一鬼夜行絵巻
How To Build A Fireball You Can Hold Video
75 Awesome "Looking Into The Past" Pictures: Pics, Videos, Links, News
Christchurch Earthquake Showing the sand liquefaction process with vibration
can't stop looking at this.gif (GIF Image, 280x263 pixels)
HUGE PHOTO: The Most Absurd Home Office Setup On The Planet
3315 - Awaysomelike!!!! so weird!!!!
Architecture can amaze us in so many ways. There are structures that can make our jaw drop because of their beauty while others are so grandiose to look at. They are also usually those kind of buildings that convince us to take a double-take on our camera. They look strange, silly, weird, and sometimes, funny. These are the structures that challenge our vision and trick our mind, each time we take another look at them; it takes us back to the awe that architecture always manages to convey.
15 Bizarre Buildings
Dimijian Images mossy leaf-tailed gecko
Where is the house of blood? It could be your house with these home furnishings, most of which are available at the click of a mouse. Individually, they might be described as conversation pieces; put them all together and you'll have a house of horrors no one would want to visit twice. One of these products used the description "Gruesome, bloody, and absolutely offensive.
mental_floss Blog » The House of Blood
From 1945 to 2010
Laser Microscope
320,000-Firecracker Sendoff on Devour
Artist Brian Dettmer Carves Old Books into Intricate Narrative Sculptures Brian Dettmer – Inhabitat - Green Design Will Save the World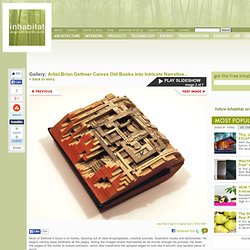 Most of Dettmer's focus is on books, favoring out of date encyclopedias, medical journals, illustration books and dictionaries. He begins carving away arbitrarily at the pages, letting the images reveal themselves as he moves through his process. He seals the edges of the books to ensure precision, which also transforms the splayed edges to look like a smooth and sanded piece of wood. Carefully extracting bits and pieces, he creates a narrative within the books' contents, revealing selected sentences and images.
Trippy Paint-Spill Painting - CollegeHumor video
The World In The Year 3000 - CoolVibe - Digital Art, Wallpapers, Inspiration
Email No matter how strongly you want to believe you are seeing blue and green spirals here, there is no blue color in this image. There is only green, red and orange. What you think is blue is actually green.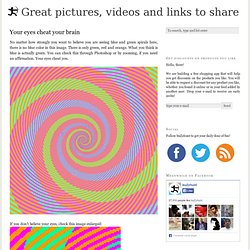 The Blue And The Green
dof05.swf (application/x-shockwave-flash Object)
The Mother of all Rube Goldberg Machines! | Discoblog
Matt Damon and Emily Blunt with Weirdo SuperFan Matt Zaller
Random Stuff I Don't Need But Kinda Want theBERRY
Samurai CGI shadow fighting is visually stunning
The most awesome thing you will see today is the following video shown below. Believe me. The picture above does not do the video any justice. Called, "Sword Dance and Shadowgraph," this live interactive and computer generated imagery performance was recently filmed in Tokyo Japan, at the The Galaxy Theater in January and was performed by Taichi Saotome.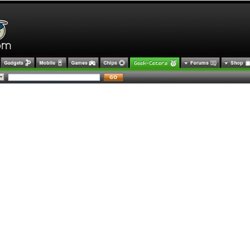 Flash Monkey - ColorWall
Seamless pictures – Rob Gonsalves
mesmereyezing.gif (GIF Image, 500x500 pixels)
Gotcha! But the rest of these optical illusions are on the level. What are illusions? Illusions trick us into perceiving something differently than it actually exists, so what we see does not correspond to physical reality. Hence, the word illusion comes from the Latin verb illudere meaning, "to mock."
NIEHS Kids Page -- Optical Illusions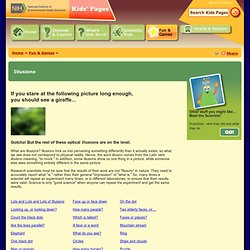 Kaleidoscope Motion
Incredible and Scary 3D Pencil Drawings by 17-year old Fredo
Map of the World Drawn Entirely Using Facebook Connections
Conrad Maldives Rangali Island's unique underwater suite (NOT photoshop)
kaleidoscope
Amazing paper castle | Email Junk
Strobe - Like dropping acid, but not
Unlimited Urban Woods Pavilion
Amazing Pumpkin Carvings (30 Pics)
build your own kaleidoscope :: zefrank
Millennium Falcon rear window sticker
Fractal World Gallery Thumbnails : cosmic recursive fractal flames or flame fractals
darthvaderballoon2.jpg (JPEG Image, 400x476 pixels)
Print - The World's 18 Strangest Bathrooms
The Tesseract
The Echo Park Time Travel Mart: Pics, Videos, Links, News
Video
China's 'Invisible man' artist Liu Bolin disappears across the world
ol Halloween Pumpkin 'Jack O' Lanterns' Designs
ASCIIPaint.com
[Stardust] KiraKira Waypoints
Flame Painter | online paint program
PV3D Acid cubes