Mobile Tech
Android Market: "Download unsuccessful" Error Fix. I recently started getting "Download unsuccessful" errors on my Motorola Droid RAZR whenever I tried to upgrade or download an app using Google Play.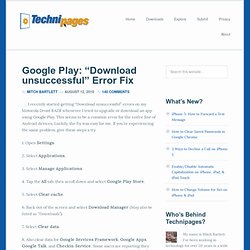 This seems to be a common error for the entire line of Android devices. Luckily, the fix was easy for me. If you're experiencing the same problem, give these steps a try. 1. Samsung Galaxy TAB 7" - Resetting 2 Factory Default. Hard Reset - Motorola DROID X2 MB870. A hard reset may help with a blank or frozen screen, apps crashing or freezing, keypad/touchscreen problems, can't hear, device making noises, can't make or receive calls, and device won't sync.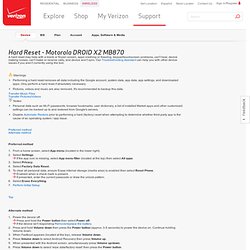 Our Troubleshooting Assistant can help you with other device issues if you aren't currently using the tool. Warnings. Greenville Moodle. Just Crosswords: Free Crossword Puzzles to Play or Make Your Own. Student Materials: Crossword Puzzles. Android 4 Schools.
---