New World Order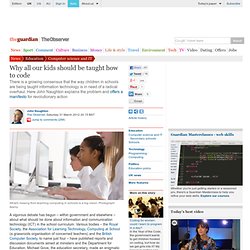 What's missing from teaching computing in schools is a big vision. Photograph: Alamy A vigorous debate has begun – within government and elsewhere – about what should be done about information and communication technology (ICT) in the school curriculum.
Why all our kids should be taught how to code | Education | The Observer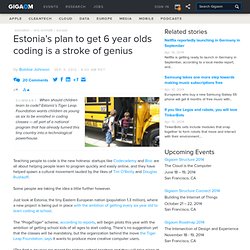 Estonia's plan to get 6 year olds coding is a stroke of genius
Teaching people to code is the new hotness: startups like Codecademy and Bloc are all about helping people learn to program quickly and easily online, and they have helped spawn a cultural movement lauded by the likes of Tim O'Reilly and Douglas Rushkoff .
Why Estonia Has Started Teaching Its First-Graders To Code
Douglas Rushkoff says computer class must be about teaching kids to make tomorrow's software. Douglas Rushkoff: It's Computer Science Education Week, aimed at promoting digital literacy He says we live in digital age but computer science not priority in schools; U.S. is lagging here
Teach U.S. kids to write computer code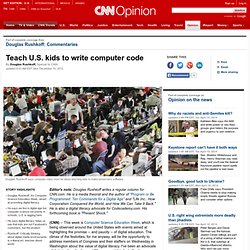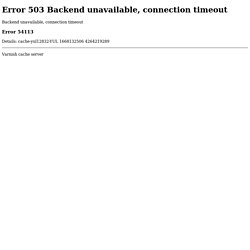 Though coder Jeff Atwood thinks coding isn't for non-computer geeks, we can think of a lot of reasons normals should learn computer language. Atwood, on his blog Coding Horror, miffed by the "everyone should learn to code" meme, likens coding to plumbing.
Six Reasons a Non-Computer Nerd Might Want to Learn to Code - Rebecca Greenfield
Program or Be Programmed | The Play-i Blog
If you've not heard of Douglas Rushkoff, you must checkout his blog or read some of his thought provoking books. Rushkoff is an award winning digital media theorist and has written 10 books on the subject. He is also a digital literacy advocate for codecademy. As part of the Computer Literacy week activities, Douglas Rushkoff gave a talk to the members of Congress last December on the Value of Digital Literacy. I recently reread the arguments he presented for why US kids be taught programming at an early age.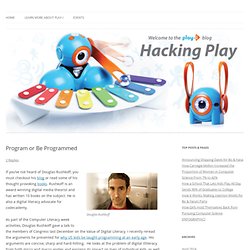 Teach U.S. kids to write computer code
Teach our kids to code e-petition « Emma Mulqueeny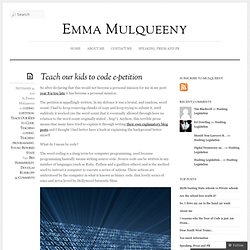 So after declaring that this would not become a personal mission for me in my post: year 8 is too late it has become a personal mission. The petition is appallingly written.
September 2012— Indonesia's fast-growing economy—propelled by powerful economic trends, including Asia's renaissance, rapid urbanization, and expanding population of young people—could become the world's 7th largest by 2030, up from 16th today. While the country's economic productivity has increased strongly over the past decade, it must rise by a further 60 percent to meet the government's target of 7 percent a year economic growth. more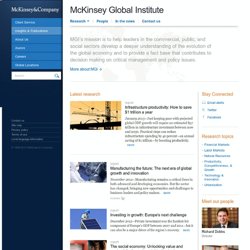 McKinsey Quarterly: The Online Journal of McKinsey & Company
In order to view certain portions of our Web site, you must have cookies enabled on your browser.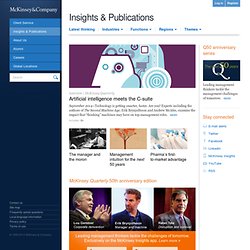 Future Trends | Globalchange.com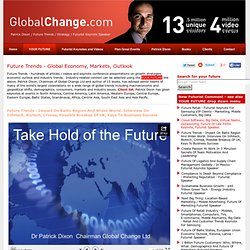 Futurist Keynote - Articles and Videos - Future Trends, Economy, Markets, Industry
Francis Fukuyama: Is China's Regime Next to Fall?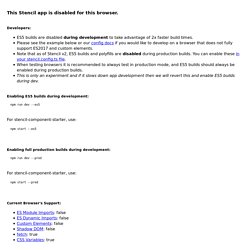 By FRANCIS FUKUYAMA Agence France-Presse/Getty Images Surveys show that a majority of Chinese feel their lives have gotten better economically in recent years.
The Future of Business: Drivers of Change and Skills to Hone
The University of Phoenix and Institute for the Future recently combined forces in order to produce the Future Work Skills 2020 report, examining what exactly propel's change and which skills we'll have to fine tune if we want to keep up.
Future Exploration Blog | Our trend map for 2009: The vital Trends, Risks, and Red Herrings you must know
Following our extremely popular Trend Blend 2007 and Trend Blend 2008 trend maps comes….
Global forces: An introduction - McKinsey Quarterly - Strategy - Globalization
"I never think of the future," Albert Einstein once observed.
Leetaru
Diagram of Emerging Institutions in Civilized Society
The global environment of business: New paradigms for international management
Note: This article is based on a book by David W.
For the last few years Richard Watson of NowandNext has created annual trend maps based on city subway maps.