New World Order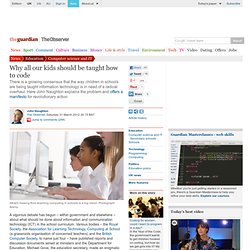 A vigorous debate has begun – within government and elsewhere – about what should be done about information and communication technology (ICT) in the school curriculum. Various bodies – the Royal Society, the Association for Learning Technology, Computing at School (a grassroots organisation of concerned teachers) and the British Computer Society, to name just four – have published reports and discussion documents aimed at ministers and the Department for Education. Michael Gove, the education secretary, made an enigmatic speech at the recent BETT technology conference indicating that a rethink is under way in the bowels of Whitehall.
Why all our kids should be taught how to code | Education | The Observer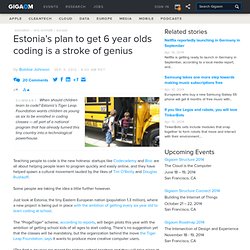 Estonia's plan to get 6 year olds coding is a stroke of genius
Teaching people to code is the new hotness: startups like Codecademy and Bloc are all about helping people learn to program quickly and easily online, and they have helped spawn a cultural movement lauded by the likes of Tim O'Reilly and Douglas Rushkoff. Some people are taking the idea a little further however. Just look at Estonia, the tiny Eastern European nation (population 1.3 million), where a new project is being put in place with the ambition of getting every six year old to learn coding at school. The "ProgeTiiger" scheme, according to reports, will begin pilots this year with the ambition of getting school kids of all ages to start coding. There's no suggestion yet that the classes will be mandatory, but the organization behind the move the Tiger Leap Foundation, says it wants to produce more creative computer users.
Why Estonia Has Started Teaching Its First-Graders To Code
Douglas Rushkoff says computer class must be about teaching kids to make tomorrow's software. Douglas Rushkoff: It's Computer Science Education Week, aimed at promoting digital literacyHe says we live in digital age but computer science not priority in schools; U.S. is lagging hereHe says digital literacy helps us see that kids are not Facebook's customers, but the productRushkoff: Critically thinking about digital media environments is a liberal art, teaches about world Editor's note: Douglas Rushkoff writes a regular column for CNN.com.
Teach U.S. kids to write computer code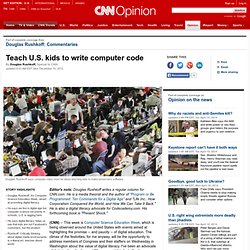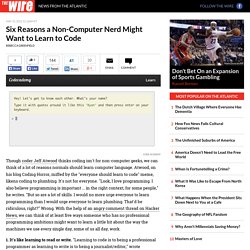 Though coder Jeff Atwood thinks coding isn't for non-computer geeks, we can think of a lot of reasons normals should learn computer language. Atwood, on his blog Coding Horror, miffed by the "everyone should learn to code" meme, likens coding to plumbing. It's not for everyone. "Look, I love programming. I also believe programming is important … in the right context, for some people," he writes.
Six Reasons a Non-Computer Nerd Might Want to Learn to Code - Rebecca Greenfield
Program or Be Programmed | The Play-i Blog
If you've not heard of Douglas Rushkoff, you must checkout his blog or read some of his thought provoking books. Rushkoff is an award winning digital media theorist and has written 10 books on the subject. He is also a digital literacy advocate for codecademy. As part of the Computer Literacy week activities, Douglas Rushkoff gave a talk to the members of Congress last December on the Value of Digital Literacy. I recently reread the arguments he presented for why US kids be taught programming at an early age.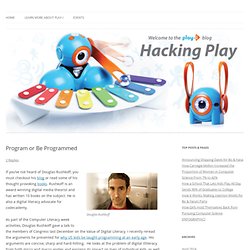 Teach U.S. kids to write computer code
Teach our kids to code e-petition « Emma Mulqueeny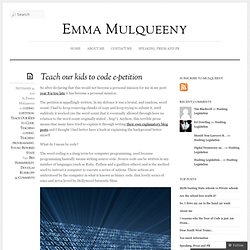 So after declaring that this would not become a personal mission for me in my post: year 8 is too late it has become a personal mission. The petition is appallingly written. In my defence it was a brutal, and random, word count; I had to keep removing chunks of copy and keep trying to submit it, until suddenly it worked (no the word count that it eventually allowed through bore no relation to the word count originally stated… bug?). Anyhow, this terrible prose means that many have tried to explain it through writing their own explanatory blog posts and I thought I had better have a bash at explaining the background better myself. What do I mean by code? The word coding is a slang term for computer programming, used because programming basically means writing source code.
September 2012— Indonesia's fast-growing economy—propelled by powerful economic trends, including Asia's renaissance, rapid urbanization, and expanding population of young people—could become the world's 7th largest by 2030, up from 16th today. While the country's economic productivity has increased strongly over the past decade, it must rise by a further 60 percent to meet the government's target of 7 percent a year economic growth. more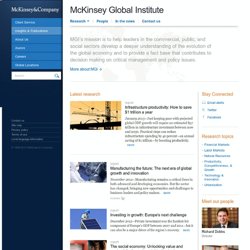 Future Trends | Globalchange.com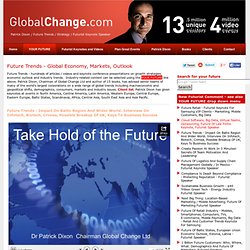 Futurist Keynote Speaker: Posts, Slides, Videos - Future Trends, Economy, Markets, Keynote Speaker Media interview before Prime Minister's Global Forum in Latvia - Patrick Dixon's opening keynote at Riga International Leadership Summit Topics: global economy, social media, sanctions against Russia, future of Baltic companies, Scottish independence, green tech, altering the human race using biotech, intuition in business decisions, dangerous obsessions with shareholder value, and what companies will most succeed in tomorrow's world. "Our world will be increasingly interconnected and we will see key examples where a single event has triggered a wide range of unexpected results.
What's Next is a trends report published by Richard Watson, a futurist author, speaker and scenario planner. Richard has written four books on current and future trends and has given over 200 talks to various organisations throughout the world. The What's Next report has been published since 2004 and each issue offers concise commentary on some of the drivers of change within the macro-environment and speculates about future risks and opportunities. The report is available free of charge. If you'd like to receive copies just subscribe with an email address and Richard will send you each new issue. The report is published between two and four times per year.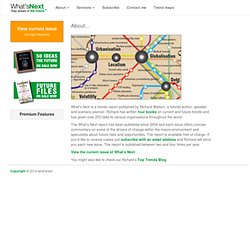 Francis Fukuyama: Is China's Regime Next to Fall?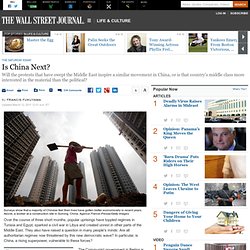 Updated March 12, 2011 12:01 a.m. ET Over the course of three short months, popular uprisings have toppled regimes in Tunisia and Egypt, sparked a civil war in Libya and created unrest in other parts of the Middle East. They also have raised a question in many people's minds: Are all authoritarian regimes now threatened by this new democratic wave?
The Future of Business: Drivers of Change and Skills to Hone
The University of Phoenix and Institute for the Future recently combined forces in order to produce the Future Work Skills 2020 report, examining what exactly propel's change and which skills we'll have to fine tune if we want to keep up. Game Changers and Skills IFTF's foundational forecasts in areas such as education, technology, demographics, work, and health were mashed up with the findings from one of the University of Phoenix's recent workshops. During this workshop, the Phoenix team engaged experts in a number of group exercises to think through key drivers of change and how these will impact workplace skill requirements. According to the final report, the six major game changers are as follows:
Future Exploration Blog | Our trend map for 2009: The vital Trends, Risks, and Red Herrings you must know
Following our extremely popular Trend Blend 2007 and Trend Blend 2008 trend maps comes…. Trend Blend 2009! Created by Future Exploration Network's Chief Futurist Richard Watson, also of NowandNext.com, the 2009 trend map moves on from the subway map theme of the last years to show the multi-tentacled hydra that is the year ahead.
Global forces: An introduction - McKinsey Quarterly - Strategy - Globalization
"I never think of the future," Albert Einstein once observed. "It comes soon enough." Most business managers, confronted with the global forces shaping the business landscape, also assume that their ability to sculpt the future is minimal. They are right that they can do little to change a demographic trend or a widespread shift in consumer consciousness. But they can react to such forces or, even better, anticipate them to their own advantage.
News is increasingly being produced and consumed online, supplanting print and broadcast to represent nearly half of the news monitored across the world today by Western intelligence agencies. Recent literature has suggested that computational analysis of large text archives can yield novel insights to the functioning of society, including predicting future economic events. Applying tone and geographic analysis to a 30–year worldwide news archive, global news tone is found to have forecasted the revolutions in Tunisia, Egypt, and Libya, including the removal of Egyptian President Mubarak, predicted the stability of Saudi Arabia (at least through May 2011), estimated Osama Bin Laden's likely hiding place as a 200–kilometer radius in Northern Pakistan that includes Abbotabad, and offered a new look at the world's cultural affiliations. Along the way, common assertions about the news, such as "news is becoming more negative" and "American news portrays a U.S.
Leetaru
Diagram of Emerging Institutions in Civilized Society
The global environment of business: New paradigms for international management